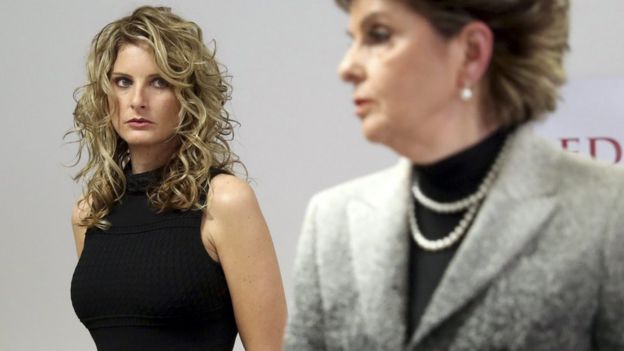 Courtesy of the
Hollywood Reporter
:
Donald Trump is looking to end a defamation lawsuit brought by season-five Apprentice contestant Summer Zervos — or at least delay it until he leaves office.
The dispute arose after tape was published of Trump boasting to Access Hollywood's Billy Bush about grabbing women's genitals. As Trump was under fire for his comments, Zervos came forward to accuse him of kissing her twice in 2007 and attacking her in a hotel room. "I never met her at a hotel," responded Trump, who would also attack allegations from his accusers as "100 percent fabricated and made-up charges, pushed strongly by the media and the Clinton campaign."
Zervos claims she's been branded as a liar, and while she's only seeking $2,914 in actual damages (though potentially more in punitive damages), her attorney, Gloria Allred, has expressed that she is looking forward to taking "far-reaching" depositions and asking "many questions he may not wish to answer, but will be required to answer."
Trump's lawyers are using a number of tactics to get this case thrown out, such as accusing Zervos' attorney Gloria Allred of being politically motivated, saying that you cannot sue a sitting president in a New York court, and finally that Trump's statements are protected by the First Amendment
,
No seriously, the 1st Amendment:
"The allegedly defamatory statements were made during a national political campaign that involved heated public debate in political forums," writes Kasowitz. "Statements made in that context are properly viewed by courts as part of the expected fiery rhetoric, hyperbole, and opinion that is squarely protected by the First Amendment."
So essentially the lawyer is suggesting that Trump just said controversial things to attract support and did not necessarily mean any of it to be taken literally.
So when he accused Zervos of being a liar, that was just political hyperbole?
Somehow I don't think that is going to pass the smell test.
Also keep in mind that though this is a defamation case the initial accusations were that Trump sexually assaulted this young woman, and the fact that he is hiding behind the 1st Amendment to keep that from being discussed in open court is pretty damn despicable.