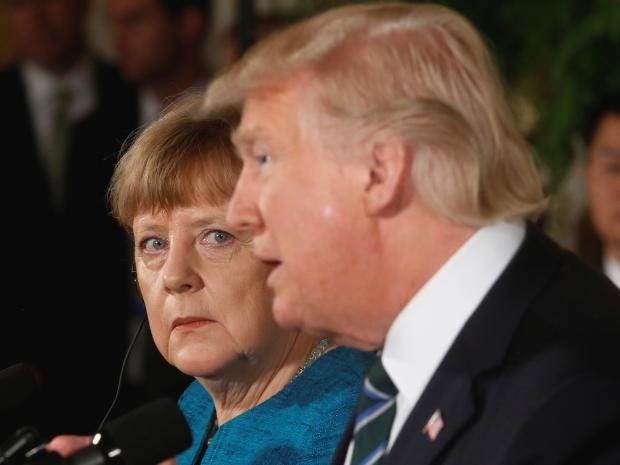 Oh yeah, we're not going to be friends.
Courtesy of
HuffPo
:
In their campaign program for the German election, Chancellor Angela Merkel's conservatives have dropped the term "friend" in describing the relationship with the United States.
Four years ago, the joint program of her Christian Democratic Union (CDU) and its Bavarian sister party, the Christian Social Union (CSU), referred to the United States as Germany's "most important friend" outside of Europe.
The 2013 program also described the "friendship" with Washington as a "cornerstone" of Germany's international relations and talked about strengthening transatlantic economic ties through the removal of trade barriers.
But the words "friend" and "friendship" are missing from the latest election program - entitled "For a Germany in which we live well and happily" - which Merkel and CSU leader Horst Seehofer presented on Monday ahead of a Sept. 24 election.
Instead, the United States is described as Germany's "most important partner" outside of Europe. CDU officials were not immediately available to comment on the change in wording.
You know one the themes of Trump's campaign was that President Obama was not garnering trust among our allies around the world.
Just another example of projection on his part apparently.
Currently our allies around the world are wondering if Americans have lost their damn minds, and whether to trust the new president with anymore classified information.
Those were certainly not their concerns a year ago at this time.