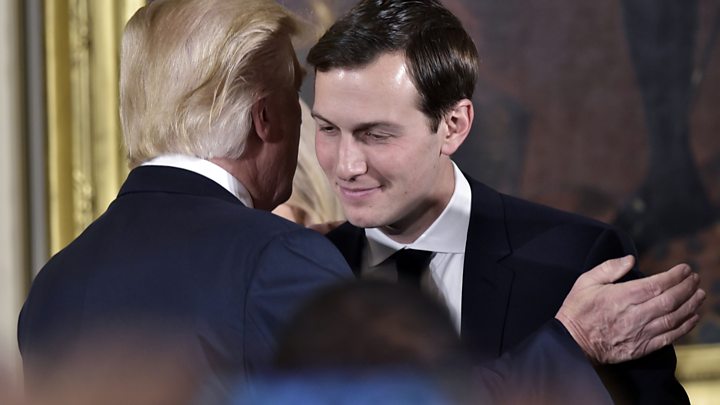 The entire statement can be read
here at CNN
.
In it Kushner calls into question news reports of contacts he had with the Russian ambassador, which he claims he cannot remember and has no records of ever making.
Kushner also claims that of course he had multiple contacts with representatives of foreign governments during the campaign since that was the job assigned to him by his father-in-law:
My father-in-law asked me to be a point of contact with these foreign countries. These were not contacts that I initiated, but, over the course of the campaign, I had incoming contacts with people from approximately 15 countries. To put these requests in context, I must have received thousands of calls, letters and emails from people looking to talk or meet on a variety of issues and topics, including hundreds from outside the United States. While I could not be responsive to everyone, I tried to be respectful of any foreign government contacts with whom it would be important to maintain an ongoing, productive working relationship were the candidate to prevail. To that end, I called on a variety of people with deep experience, such as Dr. Henry Kissinger, for advice on policy for the candidate, which countries/representatives with which the campaign should engage, and what messaging would resonate. In addition, it was typical for me to receive 200 or more emails a day during the campaign. I did not have the time to read every one, especially long emails from unknown senders or email chains to which I was added at some later point in the exchange.
Kushner also claims that when he submitted his initial paperwork for his security clearance that it was submitted prematurely by his assistant and did not include his contacts with ANYBODY from a foreign government, not just the Russians.
He further denies working to establish a back channel to communicate with the Russians, and claims that was a misrepresentation of a meeting he had with Russian Ambassador Kislyak. (At least this is one contact he admits to.)
As for that infamous meeting with Junior and the Russian attorney, this is how Kushner characterized it:
In June 2016, my brother-in-law, Donald Trump Jr. asked if I was free to stop by a meeting on June 9 at 3:00 p.m. The campaign was headquartered in the same building as his office in Trump Tower, and it was common for each of us to swing by the other's meetings when requested. He eventually sent me his own email changing the time of the meeting to 4:00 p.m. That email was on top of a long back and forth that I did not read at the time. As I did with most emails when I was working remotely, I quickly reviewed on my iPhone the relevant message that the meeting would occur at 4:00 PM at his office. Documents confirm my memory that this was calendared as "Meeting: Don Jr.| Jared Kushner." No one else was mentioned.
So essentially Kushner's claim is that he and Junior invited each other to meetings all of the time, and that he did not know what this was about, and did not read the top of the email with said "Russia-Clinton-private and confidential."
Uh huh.
Kushner then claims that the Russian attorney started talking about "adoptions," which we now know is code for "sanctions," and that he was uninterested and secretly emailed his secretary to call his cell phone in order to give him an excuse to leave the meeting early.
He then forgot all about this meeting until he was reminded about it by his attorneys.
One interesting side note is that Kushner claims that he received an email from someone referring to themselves as "Guccifer400" who claimed to have Trump's tax returns and tried to blackmail him into paying 52 bitcoins.
Kushner characterized this as a hoax.
At the end of the statement Kushner writes:
I did not collude, nor know of anyone else in the campaign who colluded, with any foreign government. I had no improper contacts. I have not relied on Russian funds to finance my business activities in the private sector. I have tried to be fully transparent with regard to the filing of my SF-86 form, above and beyond what is required. Hopefully, this puts these matters to rest.
Actually I seriously doubt this puts anything to rest. And I would suggest that once the various investigative bodies get a look at some of this Kushner paperwork they will have even more questions for him to answer.
Also keep in mind that Mr. Transparent is refusing to testify to any of this under oath.
Even though doing so is typically how people with nothing to hide, prove they have nothing to hide.