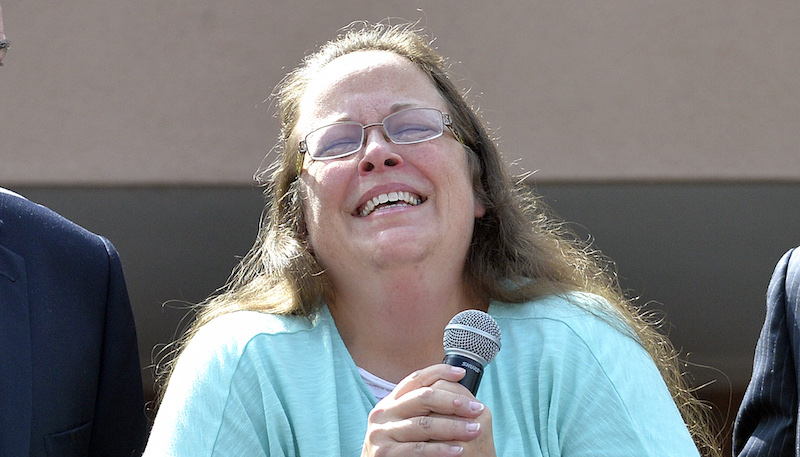 Courtesy of
Yahoo News
:
Two years after Kim Davis first made national headlines, her anti-marriage equality case is closed, at least for now ― but it will come at a cost to local taxpayers.
Davis, who is the county clerk for Kentucky's Rowan County, steadfastly refused to issue marriage licenses to same-sex couples in the wake of the Supreme Court's 2015 ruling on marriage equality, citing her religious beliefs. Though Davis was briefly jailed for contempt of court, she went on to become the darling of right-wing conservatives, including former Republican presidential hopefuls Ted Cruz and Mike Huckabee.
On Friday, a federal judge awarded $222,695 in legal fees to the attorneys of four couples ― two same-sex, two opposite-sex ― who were denied marriage licenses by Davis. (The clerk briefly refused to issue licenses to all couples in 2015 as her legal troubles began to mount.) However, U.S. District Judge David Bunning ordered the state, as opposed to Davis herself, to pay the fees.
His reasoning was simple. "Davis represented the Commonwealth of Kentucky when she refused to issue marriage licenses to legally eligible couples," he said, according to The New York Times. "The buck stops there."
Well that's awesome.
And it certainly sends a strong message any other religious wing nuts who feel their personal prejudices are more important than the rights of American citizens.
You know I was just thinking how long it has been since we have heard anything about this Kentucky Fried Lunatic.
Here's hoping this is the final time we ever do.