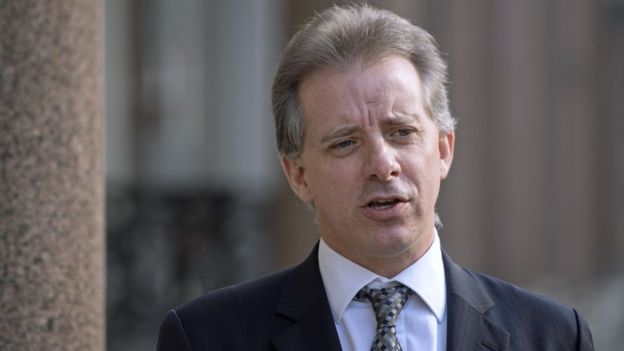 Ex-MI6 agent Christopher Steele.
Courtesy of
Mother Jones
:
One interesting element of the Donald Trump Jr. emails now in the news is that they track with parts of the Steele memos.
In that first memo, dated June 20, Steele wrote that Trump "and his inner circle have accepted a regular flow of intelligence from the Kremlin, including on his Democratic and other political rivals." The Trump Jr. email chain began on June 3, 2016. This was shortly after Trump had secured the Republican presidential nomination. It was that day that Rob Goldstone, a talent manager for middling pop-star named Emin Agaralov, contacted Trump Jr. and said that Emin's father, Aras Agalarov, a Putin-friendly billionaire developer, had met with the "crown prosecutor of Russia" who offered to provide the Trump campaign with negative information on Clinton. The Agalarovs and Goldstone had a close relationship to the Trumps, because they all had worked together in 2013 to bring the Miss Universe pageant, which Trump owned at the time, to Moscow. (Part of the deal was that Emin would get to perform two songs.) Following that event, both Trumps worked with both Agalarovs to develop a major project in Moscow. (It never happened.)
This email from Goldstone to Trump Jr. led to a meeting six days later, where a Kremlin-connected Russian attorney spoke to Trump Jr., Kushner, and Manafort about negative information on Clinton. In a statement, Trump Jr. says that what she offered was vague and meaningless, suggesting there was nothing to it. (But Trump Jr. has dissembled repeatedly about this meeting.)
That is an excellent point.
We know what the meeting was supposed to be about from the emails that were released, but we only have Junior and the Russian attorney's word that no actual information was presented.
Knowing what we do about how the Trumps play fast and loose with the truth, that should certainly not be taken as factual.
Here's more to chew on from the Christopher Steele memo:
'Source A confided that the Kremlin had been feeding TRUMP and his team valuable intelligence on his opponents, including Democratic presidential candidate Hillary CLINTON, for several years…This was confirmed by Source D, a close associate of TRUMP who had organized and managed his recent trips to Moscow, and who reported, also in June 2016, that this Russian intelligence had been "very helpful".
'
The memo also reported that there was anti-Clinton information that Putin was sitting on:
'A dossier of compromising material on Hillary CLINTON has been collated by the Russian intelligence services over many years and mainly comprises bugged conversations she had on various visits to Russia and intercepted phone calls rather than any embarrassing conduct. The dossier is controlled by Kremlin spokesman, PESKOV, directly on PUTIN's orders. However it has not as yet been distributed abroad, including to TRUMP. Russian intentions for its deployment still unclear.'
There has been no confirmation that Putin steadily fed information to Trump's camp or that a Kremlin-controlled anti-Clinton dossier existed. But one of Steele's overarching points in this memo was that Putin's regime was funneling derogatory Clinton material to Trump. The Trump Jr. emails suggest that the Russian government was aiming to do that and that the Trump campaign was willing and eager to receive assistance from Putin. So Donald Trump Jr. has done what Steele could not: produce evidence that the Trump campaign was—or wanted to be—in cahoots with a foreign adversary to win the White House.
I am somewhat skeptical that Putin actually had anything other than the DNC and Podesta email hacks to use against Hillary, as we would surely have seen anything else he had by now, and as we know essentially all of the most potentially damaging of those WERE dumped on the internet.
However we have no way of knowing, for sure, whether or not there was anything else gathered by the Russians that made its way to Trump campaign and was deemed too weak to use, or whose origins were to hard to explain.
But at the very least these emails from Trump Junior certainly confirms that, as the Steele dossier stated, Vladimir Putin wanted to help the Trump campaign, and the Trump campaign aggressively sought that help.
And that is no small confirmation.