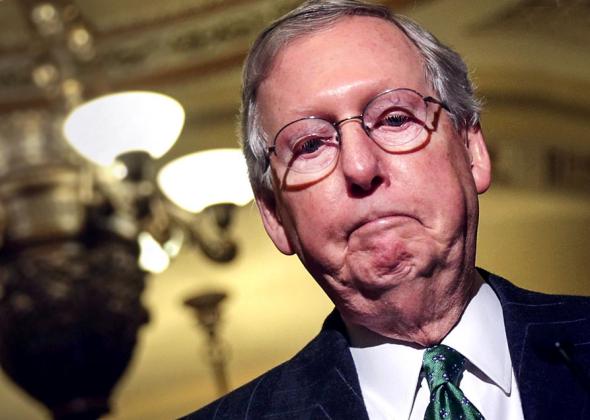 Courtesy of
Business Insider
:
Republicans in the Senate just released another update to the Better Care Reconciliation Act, their plan to overhaul the US healthcare system.
Noticeably absent from this round bill is an amendment that was added just a week ago from Sens. Ted Cruz and Mike Lee that critics said could make plans with adequate coverage unaffordable to those who have certain medical conditions.
The Congressional Budget Office didn't have a chance to score that version of the bill. Instead, it analyzed the Senate bill based on the most-recently released draft that omits the amendment.
The CBO concluded that the bill would leave 22 million more Americans without insurance by 2026 compared with the current law, in line with their estimates for the original bill. The CBO also said that the revised bill would add $100 billion in deficit savings.
There is also this little nugget revealed by the CBO.
BREAKING: CBO: Average deductible for a typical plan will increase from $5,000 to $13,000—exceeding the income of poor people ⚠️

pic.twitter.com/rSvsBQMGXV

— Topher Spiro (@TopherSpiro) July 20, 2017
However as bad as all of that is, and boy that is bad, it does not even hold a candle to what happens if the Republicans move forward with that "repeal only" bill that some are still pushing forward.
Courtesy of
Politico
:
A revived bill that would dismantle large parts of Obamacare without an immediate replacement would leave 32 million more people uninsured and double premiums over a decade, the Congressional Budget Office said in a report Wednesday.
The legislation — an update of the repeal measure nearly all GOP senators voted for in 2015 — is on track to reach the Senate floor early next week, where it likely would fail.
Let's face it, the Republicans don't know dick about health care, and the ONLY way they are going to come up with a fix for the problems with Obamacare is if they stop attempting to get rid of it, and ask the Democrats to come on board to make it better.
And I think some of these guys would rather have open heart surgery without benefit of anesthesia than to swallow their pride and do that.