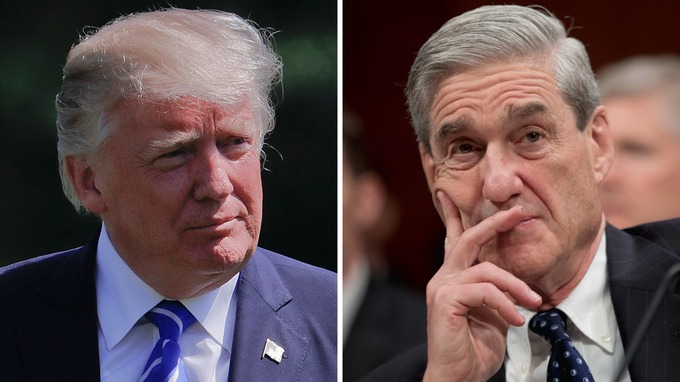 Courtesy of
Politico
:
Donald Trump's lawyers are open to having the president sit down for an interview with Robert Mueller, according to a senior White House official, as part of a wider posture of cooperation with the special counsel's Russia probe.
If Mueller doesn't request an interview by Thanksgiving, Trump's lawyers may even force the issue by volunteering Trump's time, the official said. The White House believes such an interview could help Mueller wrap up the probe faster and dispel the cloud of suspicion over Trump.
A meeting with Mueller could bring serious risks for Trump—exposing him to questions about everything from potential obstruction of justice over his firing of FBI Director James Comey to what Trump might know about Kremlin support for his presidential campaign.
But the official suggested that the White House has no reason to stonewall Mueller.
"Whatever happens with regard to whether or not, or how, the special counsel might want to interview the president, there's no reason to expect that would be combative," the senior White House official explained.
Trump told reporters this spring that he was "100 percent" willing to testify under oath about alleged Russian ties to his campaign. But even if he has nothing to hide, Trump's unpredictable nature and willingness to bend the facts poses headaches for his legal team as it strategizes for a possible sit-down with Mueller. One angry or untrue statement could have devastating political and legal consequences for the president.
Okay so let me look into my crystal ball and predict what will happen after this sit down takes place.
One, Robert Mueller catches Donald Trump in multiple lies and the investigation immediately moves to the prosecution phase.
Or two, Robert Mueller catches Donald Trump in multiple lies and Trump freaks out and tries to get Mueller fired, at which time the investigation moves to the prosecution stage.
So either way, PLEASE let this meeting take place.
P.S. Do you think it's possible that Trump's legal team is turning on him, and WANTS him to perjure himself?
At this point that would not surprise me at all.