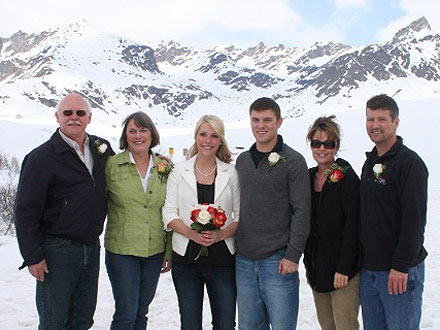 From
People Magazine
:
Sarah Palin's eldest son, Track, 22, recently married his high school sweetheart, Britta Hanson, 21, in a small ceremony in Hatcher Pass, Alaska.
"Our families couldn't be happier!" the Hansons and Palins tell PEOPLE in a joint statement. "These are two hard working, humble, active, studious young adults who grew up together. We're tickled that after two decades of friendship we proudly witnessed their marriage, knowing their new life together will be blessed."
The couple will have a larger wedding celebration this winter at Alaska's Alyeska Ski Resort "when extended family and friends from the Lower 48 can travel north for a long ski weekend," says the statement from Sarah and Todd Palin and the Rev. Duane and Elizabeth Hanson.
Now I actually have NO information about whether or not Britta is following the Palin family tradition, and carrying a little Palin fetus around or not. They have been together for some time, so perhaps they just felt it was time. (Or maybe they just felt the baby kick, and THEN knew it was time. Beats me!.)
After all it is not actually a RULE in the Palin family that it is pregnancy first, THEN marriage is it? (What am I saying? The Palin family does not have any "rules," only secrets.)
However one does at least have to wonder WHY they quickly got married at Hatcher's Pass instead of waiting for the big wedding in Alyeska. I mean what could be the rush? Even if the water breaks, Sarah can quickly teach Britta how to hold that damn kid in for at LEAST 12 to 14 hours, until they can get through the ceremony and then drive from Alyeska to the Mat-Su Regional Hospital. (The staff at Mat-Su are the ONLY people equipped to deliver a Palin baby, don'tcha know?)
P.S. By the way I am a little frustrated that so many of you sent this link to me, as if you were completely shocked by the news. Don't you read my posts? Like
this one
from May 7th:
(By the way Track if you are reading this congratulations on your engagement, and upcoming wedding. I am sure that you and Britta will be very happy together. Yes I know about it, but don't worry I am not going to tell anybody. Oops!)
Apparently I really DID keep it a secret.
Gee I wonder if that will get me an invite to phase two of the nuptials? I have not been to Alyeska in years!
Update: I just got off of the phone with Phil Munger who made an excellent point.
It is easy sometimes for all of us to paint the Palins with a broad brush (Lord knows Sarah and co, have given us plenty of scandalous paint to work with.), however Phil knows the Hanson family personally and says that Britta is a wonderful girl, and that Track is damn lucky to have her.
So instead of assuming that the Palins will corrupt Britta, it might very well be that Britta redeems Track, who by the way has taken the high road and avoided his mother and sister's tendency to pimp themselves out to the media at every opportunity. Track had a lot of fairly serious difficulties growing up, but this might just be the start of a brand new life for the young man.
It is fun to speculate and take cheap shots at this cartoonish family, but let's give Track and Britta the benefit of the doubt and wish them a happy life together, hopefully as FAR from the Sarah Palin sideshow as humanly possible.
However Track, if I turn on my television and see you as a contestant on Dancing with the Stars, the gloves come off!