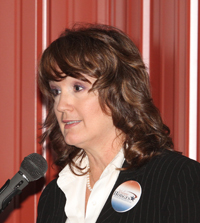 "Wait, there are HOW many religions?"
Courtesy of
Mobile News
:
Rep. Valarie Hodges, R-Watson, says she had no idea that Gov. Bobby Jindal's overhaul of the state's educational system might mean taxpayer support of Muslim schools.
"I actually support funding for teaching the fundamentals of America's Founding Fathers' religion, which is Christianity, in public schools or private schools," the District 64 Representative said Monday.
"I liked the idea of giving parents the option of sending their children to a public school or a Christian school," Hodges said.
Hodges mistakenly assumed that "religious" meant "Christian."
HB976, now signed into law as Act 2, proposed, among other things, a voucher program allowing state educational funds to be used to send students to schools run by religious groups.
Other members of the local legislative delegation, including Senator Dale Erdey, Rep. J. Rogers Pope and Rep. Sherman Mack, opposed HB976. They argued that public school funds should stay with the public schools.
Gov. Bobby Jindal's staff pushed hard to get the educational bills approved in the early days of the session, which ended June 4.
Hodges, who represents District 64 on the northwest side of the parish, and another freshman lawmaker in the local delegation, Clay Schexnayder from Dist. 81 in the southwest, voted with the House majority in favor of HB976.
The school funding mechanism, however, did not come up for a vote until the end of the session. By then, a Muslim-based school had applied for support through the new voucher system.
During debate over the MFP (Minimum Foundation Program) funding formula, Hodges learned more about the consequences of the educational changes. She voted against the new MFP funding formula; Schexnayder voted for it.
"Unfortunately it will not be limited to the Founders' religion," Hodges said. "We need to insure that it does not open the door to fund radical Islam schools. There are a thousand Muslim schools that have sprung up recently. I do not support using public funds for teaching Islam anywhere here in Louisiana."
Don't you love it when a narrow mind is forcefully expanded against its will?
"What, there's more than one type of religious school? But I just wanted to use public school funds to indoctrinate children into MY religious belief. not into one of them primitive Muslin faiths which worship the wrong gosh darn God!"
What is it that it says in the bible again, "Whatsoever a man soweth, that shall he also reap."