Courtesy of
Mother Jones
:
In recent weeks, Barack Obama and Mitt Romney have accused each other of being an "outsourcer in chief," as their campaigns have tussled over Romney's past at Bain Capital and the (non)release of his tax returns. But all this scuffling hasn't taken into account an until-now unreported fact about Romney's days at Bain: When he was running the private equity firm, he invested tens of millions of dollars in a pair of companies that specialized in outsourcing high-tech manufacturing and that developed offshore production facilities in Mexico, China, and elsewhere to build electronics for US firms.
In March 1999, shortly after Romney left Bain to take over the troubled Winter Olympics in Salt Lake City, Brookside Capital Investors Inc., a Bain-related entity wholly owned by Romney, filed a report with the Securities and Exchange Commission that listed dozens of companies in which Brookside held a stake the previous quarter. The roster included investments in Singapore-based Flextronics International ($13 million) and Florida-headquartered Jabil Circuit Inc. ($41 million), two companies that were leaders in the fast-growing field of outsourcing electronics manufacturing and offshoring production to low-wage countries. Together, these two investments represented almost 10 percent of Brookside's $559 million portfolio.
For much of the 1990s, most overseas outsourcing involved unsophisticated products like apparel. But in the second half of that decade, US high-tech companies producing computers, telecommunications equipment, and other electronics began contracting out their manufacturing to firms that had established production facilities both in the United States and in overseas locales where labor was cheap.
Such was the case with Flextronics and Jabil Circuit. They were two of a handful of companies that, according to the Los Angeles Times, "exploited the boon in high-tech outsourcing, or 'stealth' manufacturing," producing components or products for American businesses including Hewlett-Packard, Cisco Systems, Sun Microsystems, and Microsoft. When Romney was acquiring stakes in these two companies, they were hot tickets for investors. During the second half of 1998, the leading electronics manufacturing contractors—including Flextronics and Jabil Circuit—averaged an 85 percent boost in stock prices. That year, Flextronics doubled its revenues.
You know this is the thing that REALLY nags at me when I hear Romney surrogates talking about how this country needs HIS expertise on creating jobs to turn our economy around.
Somebody really needs to sit me down and explain to me how somebody who made his money
in this manner
:
As the founder of Bain Capital, Romney became a brilliant LBO buccaneer who specialized in buying up firms by taking on a lot of debt, using the target firm as collateral, and then trying to make the firm profitable -- often by breaking it up or slashing jobs -- to the point where Bain and its investors could load up the firm with even more debt, which Bain would then use to pay itself off. That would ensure a profit for Bain investors whether or not the companies themselves succeeded in the long run. Often, burdened by all that debt, these bought-out companies did not succeed, costing thousands of jobs as they were downsized, sold off and shuttered. Other times they did phenomenally well, as in the case of Sports Authority and Domino's Pizza.
Has ANY insight into how to create jobs for hardworking Americans in THIS country.
After all you cannot load up a country with piles of debt just to ensure that IT'S top one percent make a profit, with no consideration for the middle class workers that are the foundation for its ability to prosper?
Or can you? And did I just describe all eight years of the Bush administration?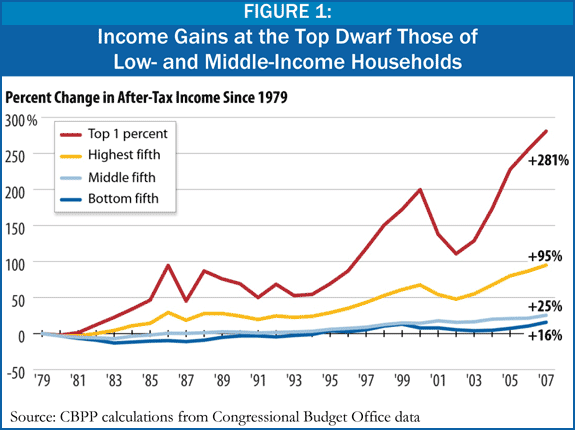 So it appears that Joe Biden was right, Mitt Romney is essentially "
George Bush on steroids
."
Personally I think that if THAT comparison is made over and over again, that President Obama should have this election in the bag.