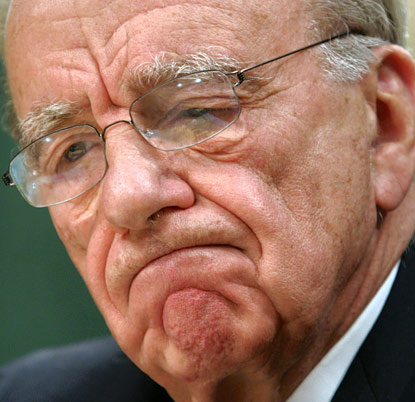 Courtesy of
The Telegraph
:
Rupert Murdoch has resigned as a director of a string of companies behind The Sun, The Times and The Sunday Times, fuelling expectations that he is preparing to sell the newspaper group.
Companies House filings show that Mr Murdoch stepped down from the boards of the NI Group, Times Newspaper Holdings and News Corp Investments in the UK last week. He also quit a number of News Corp's US boards, the details of which have yet to be disclosed by the US Securities and Exchange Commission.
News Corporation played down the significance of the resignations as "nothing more than a corporate housecleaning exercise prior to the company split".
The media giant took a similar line when James Murdoch resigned a string of directorships at News International last November, pouring cold water on suggestions that he was walking away from the UK newspaper arm. He quit as chairman three months later.
I think this is amazing news, and I certainly hope that it is an indication this scandal will be discovered to have happened in America as well. I cannot imagine that if it was So prevalent among News Corps news outlets in Britain that it would not also have occurred here as well.
There is currently at least
two investigations
here in America to determine that very thing:
The Justice Department and FBI are in the midst of two investigations into the hacking scandal. One seeks to learn if any News Corp. employees engaged in phone hacking in the United States; another is aimed at determining whether bribes paid to British officials by journalists at two News Corp. papers, the now-defunct News of the World and the Sun, for newsworthy information constituted a breach of a U.S. anti-bribery law, the Foreign Corrupt Practices Act.
Hopefully these investigations will start to show some progress BEFORE our November election.
Especially since it appears that
Fox News
will do just about ANYTHING to ensure the defeat of our President:
Over two days, Fox News spent 42 segments and more than two hours of airtime manufacturing a scandal by deceptively editing comments President Obama made at a campaign appearance in Virginia.
On July 13, Obama made the unremarkable observation that business owners do not achieve success in a vacuum, but that public infrastructure - such as roads, schools, and fire departments - create a community that supports businesses.
Media Matters monitored Fox's coverage of Obama's comments on July 16 and July 17, and found that Fox News devoted 2 hours and 19 minutes to covering the controversy -- one largely manufactured by the network itself. The coverage culminated with Fox's afternoon and primetime lineup on July 17, with Your World with Neil Cavuto, The Five, Special Report, The O'Reilly Factor, Hannity, and On the Record with Greta Van Susterencontributing 1 hour and 5 minutes to the story.
Two prime-time shows, Hannity and On the Record with Greta Van Susteren, devoted a total of more than 15 minutes to the story on July 17. The O'Reilly Factor similarly devoted more than 14 minutes.
Including teases that perpetuated Fox's distorted portrayal of Obama's comments, Fox News dedicated 42 individual segments to the story over the course of two days. Fox & Friends alone ran nine segments in two days, while the "straight news" program America's Newsroom covered the story six times, inviting guests such as Fox Business host Stuart Varney, Sen. John Barrasso (R-WY), and Donald Trump to attack Obama.
This does not indicate a certain Right Wing bias, this indicates an absolutely naked attempt to manufacture scandal in order to change the outcome of a presidential election. How THAT is not considered against the law in this country, and result in having Fox News pulled off the air, is beyond me. (Tough of course it might have something to do with
this court case
.)
So essentially if this phone hacking scandal were to land on our shores with the same reverberating impact that it did overseas, we could see Fox embroiled in a legal controversy that would make its ability to continue manufacturing fake controversies nigh impossible.
Sure they would cry censorship since the Justice Department is currently part of the Obama administration, but who gives a shit? Once the evidence started piling up, and other news agencies from around the world reported the scandals, Fox would start to lose its credibility by the truckload.
And personally I cannot think of a better outcome for this country than to see Fox News shut down and taken off of the airwaves. Perhaps then American news outlets could all get back to reporting the facts and put aside this constant partisan "he said, she said."
Wouldn't THAT be nice?