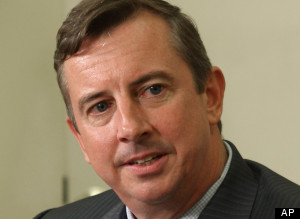 "Wait, what did I just say?"
Courtesy of
The Hill
:
Gillespie on Sunday sought to clarify the matter, saying that Romney initially thought he would be leaving Bain on a temporary basis, but the challenges of the Olympics led him to "retire retroactively."
"There may have been a thought at the time that it could be part time, but it was not part time," Gillespie said.
"He took a leave of absence and in fact he ended up not going back at all, and retired retroactively to 1999 as a result," he added.
He "retired retroactively?"
Well isn't THAT convenient?
Let's face it Romney WAS working for Bain Capital several years after he claimed that he had retired, and
documents prove
he was still listed as a "managing member" as late as 2002.
And then there's this
from testimony
in front of the Massachusetts Ballot Law Commission:
"When I left my employer in Massachusetts in February of 1999 to accept the Olympic assignment," Romney testified before the state Ballot Law Commission on June 17, 2002, "I left on the basis of a leave of absence, indicating that I, by virtue of that title, would return at the end of the Olympics to my employment at Bain Capital, but subsequently decided not to do so and entered into a departure agreement with my former partners."
Romney's lawyer at the hearing said that Romney's work in the private sector continued unbroken while he ran the Olympics.
"He succeeded in that three-year period in restoring confidence in the Olympic Games, closing that disastrous deficit and staging one of the most successful Olympic Games ever to occur on US soil," said Peter L. Ebb from Ropes & Gray.
"Now while all that was going on, very much in the public eye, what happened to his private and public ties to the Commonwealth of Massachusetts? And the answer is they continued unabated just as they had."
"Retroactive retirement." give me a break!