Courtesy of
Hollywood Reporter
:
Peter Berg, the writer-director of the Friday Night Lights movie and television series, is not pleased that Republican presidential candidate Mitt Romney has co-opted a phrase from the show for his campaign appearances.
In a letter to the Romney campaign sent Friday and obtained exclusively by The Hollywood Reporter, Berg calls the use of "Clear Eyes, Full Hearts, Can't Lose" an act of stealing. "Your politics and campaign are clearly not aligned with the themes we portrayed in our series," Berg writes in the letter. "The only relevant comparison that I see between your campaign and Friday Night Lights is in the character of Buddy Garrity -- who turned his back on American car manufacturers selling imported cars from Japan."
Personally I kind of liked this last part of the letter best:
"Your use of the expression falsely and inappropriately associates "Friday Night Lights" with the Romney/Ryan campaign. Mitt, we all wish you and your family all the best. We are grateful for your support of our beloved show, but we are not in any way affiliated with you or your campaign. Please come up with your own campaign slogan."
But you see therein lies the problem, because NOTHING about the Romney campaign is original. neither Mitt Romney, nor his staff, have "come up" with anything.
His economic plan is stolen from the Bush administration. His hair is stolen from Ronald Reagan. And his policies are stolen from whoever happens to be leading him in the polls at the time.
If EVERYBODY were to stop Romney from borrowing his ideas from them that would pretty much be the end of his campaign.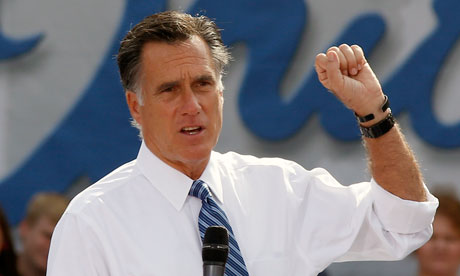 "Four score and seven....Yeah I know, but he's dead so HE won't write a letter!"