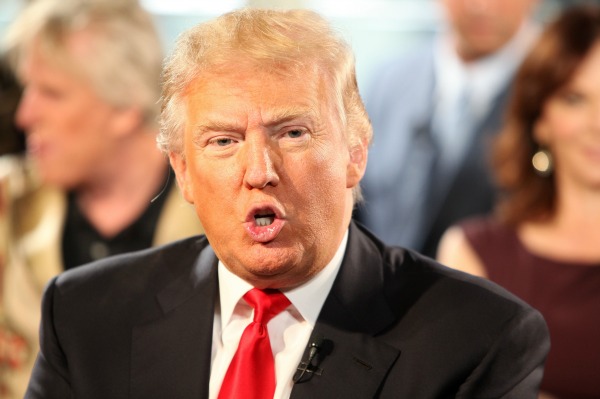 Courtesy of
Deadline
:
The Apprentice star Donald Trump was a constant lighting rod for controversy during the recent presidential campaign with his birther obsession and outrageous comments and Twitter rants against everyone from President Obama and the GOP to Rosie O'Donnell. With all that baggage, is NBC sticking with Trump and has the net asked him to tone his rhetoric down? "We live in this country where you can say anything you want as long as you are not harming other people," NBC chief Bob Greenblatt said during the NBC TCA executive session. "He has his political belief system but I really don't think what he's doing in his personal life is going to corrupt what he's doing on the show." However, "if he becomes somehow hurtful and says or does things that cross a line, we would figure out what to do with that." Added NBC's head of reality Paul Telegdy, who oversees The Apprentice, "It just comes with the Donald Trump territory, he keeps a lot of publicists very very busy." NBC already played a role in protecting America from even more Trump in the public space. "We talked him out of running for president, wasn't' that good enough?," Greenblatt said.
"If he becomes somehow hurtful and says or does things that cross a line, we would figure out what to do with that."
IF he becomes somehow hurtful? IF he crosses a line?
Is there actually a line that Donald Trump has NOT crossed?
He called Rosie O'Donnell a "slob" and
suggested that the producers
of "The View"s (This is when O'Donnell was still on that show) get in "her fat ugly face" and tell her she was fired.
He aggressively accused the President of not being an America citizen and has done virtually everything in his power to insult the man, his family, and the American people who voted for him.
There was even
a documentary
made that exposed Trump's bullying tactics and arrogance during a battle to get the land owned by a Scottish local that he needed to complete a gold course. The things he did to that poor gentleman fall under the very definition of movie villain.
So I guess I am wondering exactly WHERE this line that Donald Trump should not cross is located?
Does he have to rob a gas station and get caught after a lengthy car chase with a dead hooker in his trunk? Because every line before that one I think Donald Trump has already managed to stomp all over.
P.S. Oh and before I forget, this Bob Greenblatt guy did NOT talk "The Donald" out of running for President. The windbag NEVER had any intention of putting his name up for the nomination.
He is nothing more than a loud mouth coward, and does not have the balls to actually run for office.
Much like Sarah Palin he is nothing more than an attention whore who will say provocative things, and tease the low hanging fruit with the prospect of a presidential run, but NEVER follow through because he knows he will be humiliated.
Two people whose overriding hatred of President Obama has proven to be be their downfall.