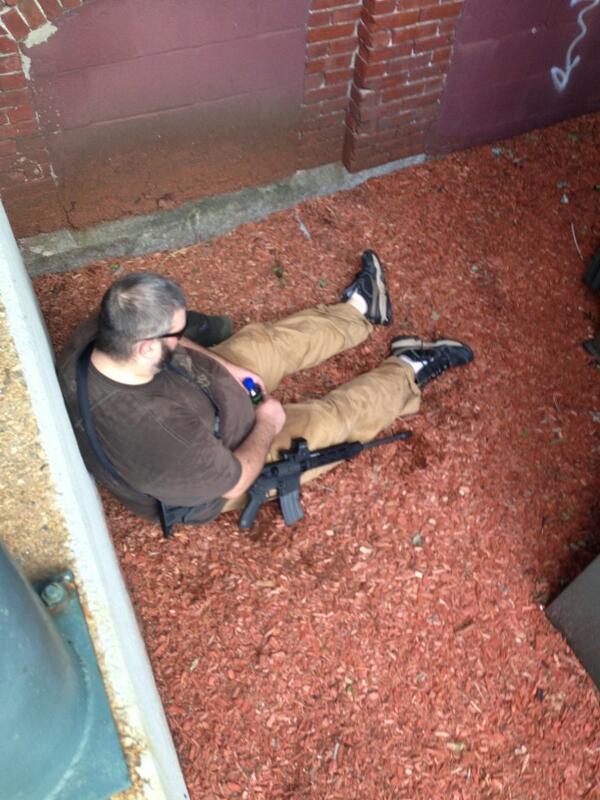 Courtesy of
TPM
:
Rep. Gabby Giffords (D-AZ) held an event in New Hampshire Friday urging the state's political leaders to fight for an expansion of background checks on gun purchases, the Associated Press reported. Giffords, 42, survived an assassination attempt in January 2011.
Associated Press reporter Steve Peoples posted this photo on Twitter, which he describes as showing a protester at the event holding an AR-15 and taking a nap:
Protester with AR-15 takes nap outside Gabby Giffords' NH event. pic.twitter.com/A9cfwmg4NA
— Steve Peoples (@sppeoples) July 5, 2013
The woman was SHOT IN THE HEAD!
Should there not be an added concerns about something similar happening again? Especially now that she is taking up the battle for background checks?
In my opinion showing up at, or near, an event featuring Gabby Giffords, blatantly displaying a weapon, is an intentional act of intimidation and, considering that it is meant to terrify the poor woman, an act of domestic terrorism.
And it seems that these jerkwads are
showing up EVERYWHERE
!
I think it would be well within Mark Kelly's right to knock this corpulent POS on his chubby white ass.
I know I would.