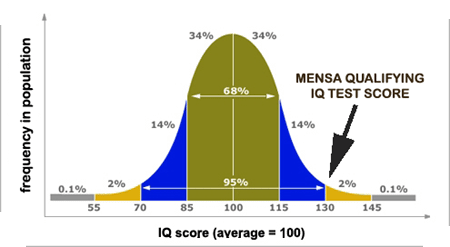 Courtesy of the
Deccan Chronicle
:
A two-year-old toddler in UK has become the youngest ever member of the genius club Mensa, after he scored an incredible 141 on an IQ test.
Adam Kirby scored 141 in the IQ test that reportedly ranked him smarter than US President Barack Obama and British Premier David Cameron.
The toddler was invited to join the elite group after demonstrating his ability to read Shakespeare and understand Japanese, Spanish and French, the 'Daily Express' reported.
The toddler stunned his parents Dean and Kerry-Ann Kirby by spelling 100 words and mastering both his times tables and the periodic table of chemical elements.
"Adam's abilities are outstanding. While most children are just learning to stand up or crawl, Adam was reading books. His development was mind-blowingly quick," Dean, a 33-year-old IT consultant from Mitcham, South London, said.
"We used to show him cards with the words hippopotamus and rhinoceros on them and he could identify the right animals most of the time," said Dean.
Adam's IQ of 141 – just four shy of the Genius category – compares with the average Briton's score of 100.
At two years five months, Adam is the youngest boy to join Mensa, the report said.
I joined Mensa once. I did.
However before you get all impressed I should probably tell you that I did it to meet smart women.
I went to one meeting and as far as I could tell there were no women. (There was one shapeless hulk in the corner whose gender was indeterminable however.)
Personally I think that anybody who joins Mensa to meet women has already failed the IQ test. Not because there are not smart women, but because they are too smart to want to attend Mensa meetings.
But seriously two and half? How is that possible?