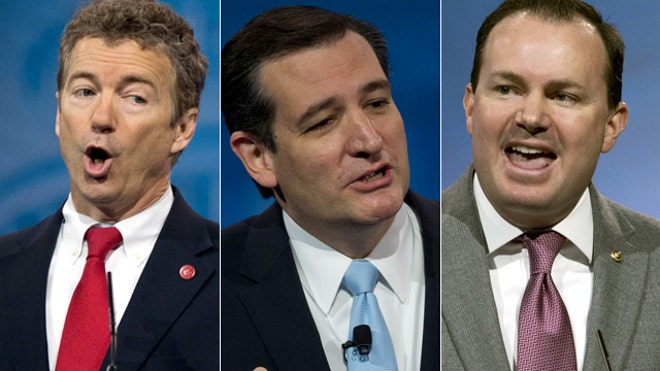 Rand Paul, Ted Cruz, and Mike Lee the three horsemen of the GOP Apocalypse
Courtesy of
TPM
:
The findings from Pew suggested that rank-and-file Republicans agree with the national party leaders who have led an autopsy following their humbling showing in last year's election. A huge majority of Republican voters — 67 percent — said that the party needs to "address major problems" in order to fare better in future presidential elections. Fifty-nine percent said the party "needs to reconsider some positions" if it wants to do better in presidential races.
But when it comes to a prescription for the party's electoral ills, a majority of GOP voters said their leaders should move further to the right, not the center. Fifty-four percent of Republicans told Pew that party leaders should move in a "more conservative direction," while 40 percent said they should take a "moderate direction."
With regard to the issues dominating Washington these days, more Republicans believe that the party's positions are not conservative enough. By a roughly two-to-one margin, more Republicans said the party's position on immigration is not conservative enough than those who said the position is too conservative. The margin ballooned to four-to-one when it came to the party's position on government spending.
On gay marriage, slightly more Republicans (31 percent) said the party's position is too conservative than the number who said it's not conservative enough (27 percent). Gun policy was the only issue tested by Pew wherein a majority (58 percent) said the party's position was about right.
You know from the outside looking in this seems almost pathological. The idea that by continuing to do something which is marginalizing your party so badly that it may cease to exist is essentially political suicide, yet the majority of these people simply do not see it that way.
You know I was sitting here trying to think what this reminds me of and then it struck me. THIS is almost exactly like when very religious families refuse medical care in favor of faith healing and prayer. As their relative gets sicker and sicker, they simply pray harder and harder, without ever considering reaching out for medical assistance.
And then once the family member dies, the family chastises themselves for not having had enough faith.
Essentially that is the Republican party in a nutshell. They have faith that will win more elections if they are more conservative, and if that does not work then they need to try harder to be more conservative. And if THAT does not work, well there is always trying to be more conservative.