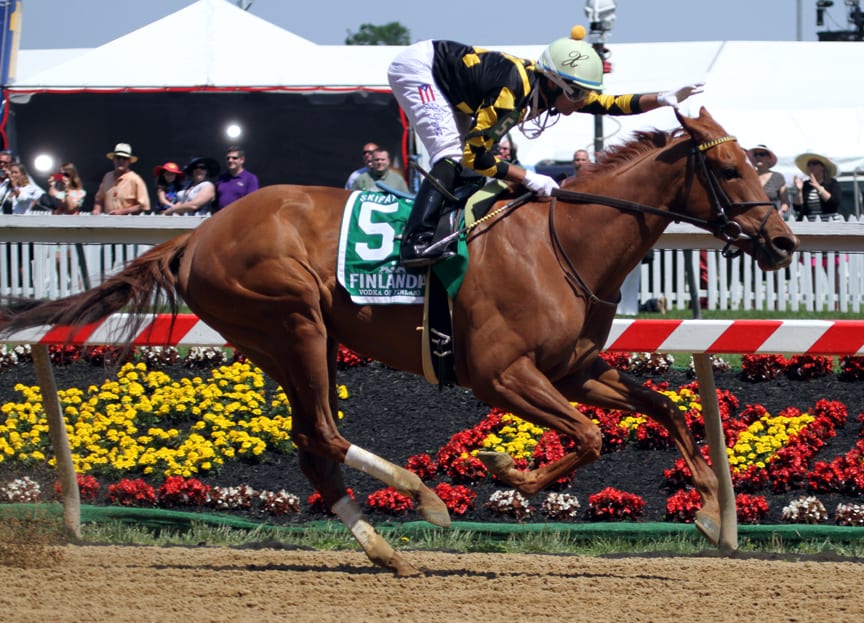 Dance to Bristol. Photo copyright The Racing Biz LLC
Courtesy of the attention whore's
Facebook page
:
Congratulations to Dance to Bristol for winning the Ballerina Stakes today! This amazing horse is on a great winning streak. It's wonderful to have something more fun to write about at a time when so many troubling things are in the news. I'll be on Greta Van Susteren's show tonight on Fox at 10pm ET to discuss the government official in charge of "hoarding" guns and the millions of rounds of ammo for DHS who happens to be the operator of a hate website advocating the murder of fellow Americans. Unflippingbelievable.
I am not sure what the name "Dance to Bristol" means exactly, and I see no articles attributing the name to Palin's useless offspring, but IF the horse is named in honor of Bristol's dancing it is a wonder the poor thing can even walk much less run.
So Palin managed to kiss Greta's ass enough to get invited back onto her show huh?
This Homeland Security guy that Palin is talking about is
apparently a lunatic
who is preparing for a race war and advocating for anti-gay causes.
I assume that since the guy is black that Palin will be trying to link him to the President and inferring that he is working with him to target white people. However that may prove difficult as President Obama is listed on the guy's
batshit crazy website
as "a treasonous mulatto scum dweller," and lists him among the movement's enemies (also on the list? Oprah Winfrey, Whoopi Goldberg, and Condoleezza Rice, among others.)
Yeah kind of hard to connect him to the President if he refers to him in such derogatory terms, but hey leave it to Palin to try.