.

@megynkelly

must have had a terrible vacation, she is really off her game. Was afraid to confront Dr. Cornel West. No clue on immigration!

— Donald J. Trump (@realDonaldTrump) August 25, 2015
I liked The Kelly File much better without

@megynkelly

. Perhaps she could take another eleven day unscheduled vacation!

— Donald J. Trump (@realDonaldTrump) August 25, 2015
— Donald J. Trump (@realDonaldTrump) August 25, 2015
— Donald J. Trump (@realDonaldTrump) August 25, 2015
— Donald J. Trump (@realDonaldTrump) August 25, 2015
My how presidential.
Now it should be noted that Megyn Kelly did not say a word about, or against, Donald Trump during her time off. And yet the minute she is back on TV he goes after her like a rabid dog.
Seriously, WTF?
This unprovoked attack was egregious enough that Roger Ailes who previously attempted to smooth things over between Kelly and Trump released
this statement
: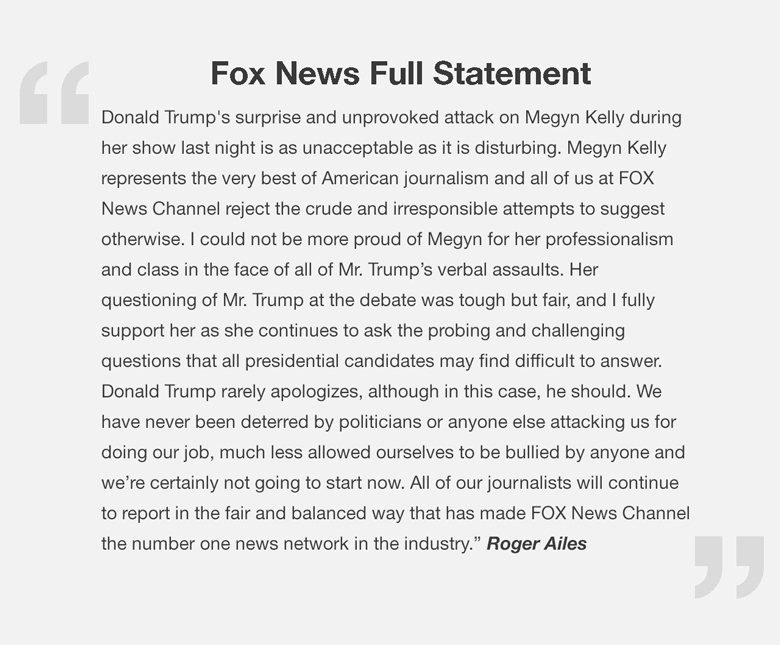 Of course Trump has NO intention of apologizing to Kelly or anyone else, and responded to Ailes with this:
"I totally disagree with the Fox statement," he said. "I do not think Megyn Kelly is a quality journalist. I think her questioning of me, despite all of the polls saying I won the debate, was very unfair. Hopefully in the future I will be proven wrong and she will be able to elevate her standards to a level of professionalism that a network such as Fox deserves."
So as of right now it appears that Donald Trump and Fox news are at war.
Oh my God, there is now way I have enough popcorn for this!
By the way one Missouri woman is pretty sure that Donald Trump's face
showed up in her tub of butter
.
Uncanny resemblance!
So I guess we can call him "butter face" now right?