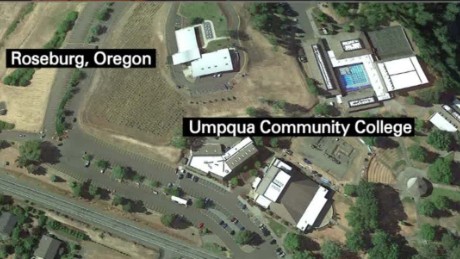 Courtesy of
KTLA
:
Preliminary information indicates 10 people were killed and more than 20 others injured in a shooting at Oregon's Umpqua Community College in Oregon on Thursday morning, said Oregon State Police spokesman Bill Fugate. The reports indicate that the shooter has been detained, Fugate said.
This is yet another breaking story. Will update as more information becomes available.
Update: There
are reports
that the shooter may have posted his intentions on social media last night.
It also appears the President has been briefed.
White House says President Obama has been briefed on

#UCCShooting

. He has requested updates through the day from Homeland Security.

— John Tierney (@jtierney6) October 1, 2015
How many times has our President had to address a senseless mass shooting like this now?
I think
this makes it fifteen
.
Update 2: MSNBC is now reporting the number killed at thirteen.
Update 3: Just learned that the gunman is also deceased.
Update 4: The shooter's name was Chris Harper Mercer, he was a 26 year old student at the college.
He is of course deceased.