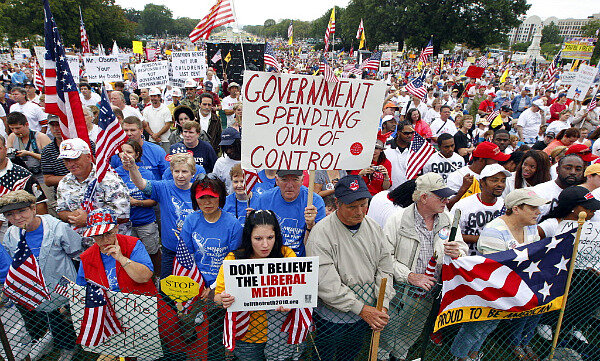 Courtesy of
Gallup
:
Americans' support for the Tea Party has dropped to its lowest level since the movement emerged on the national political scene prior to the 2010 midterm elections. Seventeen percent of Americans now consider themselves Tea Party supporters, and a record 54% say they are neither supporters nor opponents.
The Tea Party emerged in 2009 in opposition to the fledgling Obama administration, and many Americans took sides for or against the movement in the midterm elections the next year. Support peaked at 32% in November 2010, just after those elections, in which Tea Party supporters were widely credited with helping the Republican Party gain control of the U.S. House of Representatives.
As support gradually eroded over the next year, opponents of the Tea Party gained the upper hand and have led supporters in all 10 Gallup polls measuring views of the movement since the start of 2012. Since August 2012, support has failed to reach 25%, and it has fallen below 20% in each of the last two polls.
Well that's all good news of course, and it explains why it appears that the moderate Republicans are starting to get the upper hand in the choosing of a new Speaker of House to replace John Boehner.
(Yes I know Paul Ryan sucks, but hey at least it's not Louie Gohmert!)
However here's the part that still bothers me.
If there is still 17% support for the Teabaggers, and 54% who seem agnostic towards them, then that leaves only 29% of us who are openly against them.
That seems like a much too low of a number to me.
I will not be happy until more than two thirds of the American people recognize that the Tea Party is made up of a bunch of ignorant racists, who could not pass a test on US History with a gun held to their head.