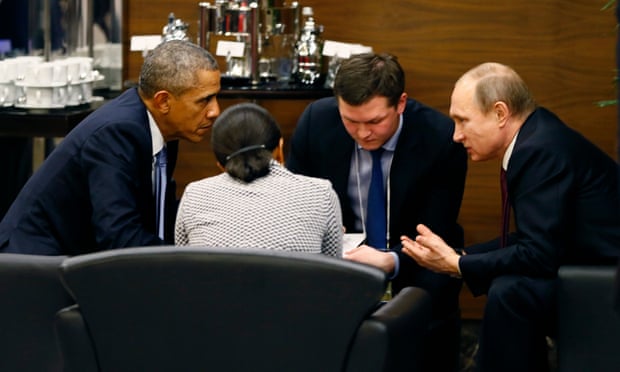 Courtesy of the
Mirror
:
America and Russia have pledged to wipe out ISIS .
Barack Obama and Vladimir Putin sat down at the G20 summit in Antalya, Turkey, for crucial talks.
The two world leaders were pictured huddled around a coffee table in the aftermath of the terror attacks in Paris .
And Obama and Putin are by no means alone in wanting to bring the fight to the terrorists.
Already France has launched
a series of air attacks
:
France bombed the Syrian city of Raqqa on Sunday night, its most aggressive strike against the Islamic State group it blames for killing 129 people in a string of terrorist attacks across Paris only two days before.
President François Hollande, who vowed to be "unforgiving with the barbarians" of the Islamic State after the carnage in Paris, decided on the airstrikes in a meeting with his national security team on Saturday, officials said.
I totally support the idea of going after the terrorists, but I very much want people to keep in mind the lessons of the Iraq War and remember that killing people in predominantly Muslim countries in retaliation for attacks conducted by Muslim extremists only exacerbates the problem and does nothing to keep us safe, but rather puts all of us in greater danger.
Sometimes the idea of killing them over there, before they kill us over here, only makes more of them over there want to kill us over here.
P.S. By the way for those confused as to who I am referring to in the title, "Daesh" is the name that ISIS
does NOT want you to call them
. So of course that will be the only name that should be used to refer to them.