Courtesy of
Buzzfeed
:
"Um, I don't know entirely the context," Palin said on SiriusXM radio. "I mean, if for sure there was mocking of one individual who does have, or any [unclear] individual who has a special need. Um, that's bad, obviously. I've seen others do that. You know we saw the president mocking — while he was sitting as president — mocking those who participate in the Special Olympics."
"And I mean, that's, that's like a gut punch when you hear that kind of thing," she continued. "I don't like it. And, you know, everybody's gotta be a bit better than that."
Oh yeah GOT to attack the President in every interview right Sarah? (BTW
here is the President's remark
. You can decide if they constitute a "gut punch" for yourself.)
Palin goes on with her attempt to give Trump a pass:
"Well again, I haven't known what the whole context is, you know," Palin added. "We've been uh — delved into and dived into — this book tour, so, you know, I haven't really turned on the new in the past couple of days. But again—"
"But respectfully, but respectfully, you've seen the footage, right," interjected radio host Michael Smerconish. Palin responded she had, and if Trump mocked an individual it would be "terrible."
"Oh yeah, I I saw the footage, I think it was just yesterday, or two days ago," said Palin. "Yeah. And um, again, if that was mocking an individual, if that's accurate, then, no, you don't — I — it's terrible, its terrible."
"But um, again, I'm not gonna buy into the narrative without knowing all the facts that he purposefully was talking about, um, a New York Times reporter or editor who had the special needs — yeah, I won't buy into it until I know the facts, but I apply that to every issue. I'm not gonna just buy into what I'm seeing on TV because I don't trust everything that I see on TV and hear on the news."
Gee lack of trust in the media certainly did not stop her from
jumping all over the President
for his one casual remark. Did it?
Here is Trump mocking the reporter.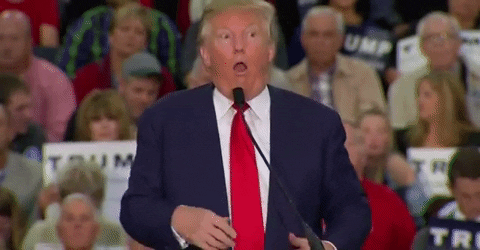 That seem pretty clear, doesn't it Sarah?
Here, does this image of the reporter side by side with Trump's mocking make it easier?
Well of course it doesn't, because this is Trump. And Palin needs to kiss his ass just in case he actually wins the nomination.
After all Sarah Palin's indignation only extends to non-Christians, liberals, and those who believe in facts.