"I don't know what happened. I also taught Track that when striking a woman, it's always with an open hand. Less chance of bruising that way.
Courtesy of the Trump Tramp's
Facebook page
:
Bold, smart, respected, conservative Senate icon endorses Donald Trump with enthusiastic proclamation: "This isn't a campaign, this is a movement!" - Sen. Jeff Sessions
(Thank you for hosting Trump and me in your office at our Anti-Iranian Nuke Rally, Sen. Sessions. Your leadership in the pro-American Security/pro-Israel movement is unsurpassed, as is your pro-legal immigration/anti-criminal border crossings effort. America thanks you!)
- Sarah Palin
Oh yes, I'm sure that Sarah Palin speaks for all of America in thanking Senator Sessions for selling his endorsement to "the Donald."
But seriously, who better for Sessions to endorse considering that he once
referred to the NAACP and ACLU
as "un-American" and "Communist inspired" organizations?
Senator Sessions is also "
offended
" by the views of scientists warning of man made changes to our climate, and
once compared
support for marriage equality to support for pedophilia.
So here's a thought.
If Donald Trump finally gets his little Day-Glo orange feelings hurt by the GOP and decides to run as a third party candidate, as
he has threatened
, does that mean that Palin will finally drop the facade and support him in that endeavor as well?
Hey, maybe if she did he might actually consider putting her on the ticket with him.
Or am I just being greedy now?
By the way apparently Donald Trump's Secret Service agents have been informed that the real danger to Trump comes from the press which is the only explanation I can come up with
to explain this
: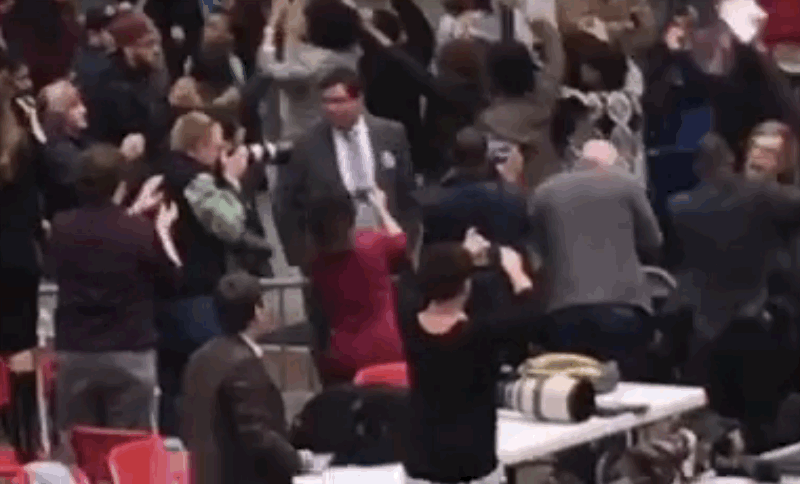 However it is nice to see that Track Palin finally has a job.