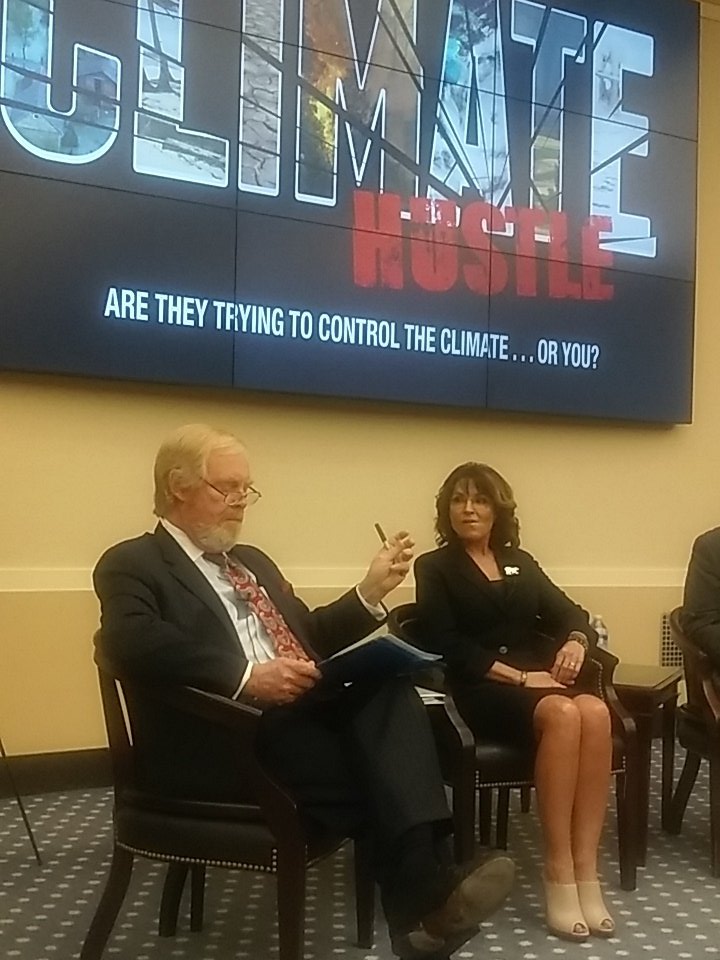 Courtesy of
The Hill
:
Sarah Palin tore into Bill Nye's scientific qualifications on Thursday, saying he has no authority to say climate skeptics are wrong.
Palin, the former governor of Alaska and the 2008 Republican vice presidential candidate, said the man known for his show "Bill Nye the Science Guy," is using his position of authority to harm children by teaching them that climate change is real and man-made.
"Bill Nye is as much as scientist as I am," Palin said at a Capitol Hill event held to roll out a film that aims to discredit climate scientists. "He's a kids' show actor, he's not a scientist."
Palin said behind the "alarmism" that the climate is changing is a "predetermined" and political agenda "of those, I think, who are controlling the narrative right now on changes in the weather."
She repeatedly dismissed climate change as changes in weather, and said scientists who believe the consensus that humans are the main cause of global warming are trying to shut down human progress.
Palin encouraged parents to teach their children to doubt climate change and to "ask those questions and not just believe what Bill Nye the Science Guy is trying to tell them."
Do not just "believe what Bill Nye the Science Guy is telling them?"
Does she mean "Facts?"
These are not simply things that Bill Nye pulls out of his ass, like the majority of the things that vomit forth from Palin's gaping maw, he is backed up by the vast majority of climate scientists.
This from
Think Progress
:
Almost 16 years after Harvard researcher Naomi Oreskes first documented an overwhelming scientific consensus on climate change, a research team confirmed that 97 percent of climate scientists agree that human-caused climate change is happening.
The study, published Tuesday, brought together 16 scientists, including seven authors of consensus studies that documented similar conclusions over the years despite varying research approaches. While reaching this so-called "consensus on consensus," authors concluded that scientific agreement on human-caused climate change is "robust" with a range of 90 to 100 percent, depending on the question and methodology.
So is Sarah Palin also just "as much of a scientist" as these researchers?
You know despite what some news outlets reported earlier, THIS was the plan all along.
And that was to have a dishonestly edited piece of tape showing Bill Nye in the worst light possible, and then have Sarah Palin, and others, mock and attack him.
IF they had possessed the guts to plan the event for a time when he was available, he would have easily mopped the floor with all of them.
Probably using that thing on Sarah Palin's head to do so.