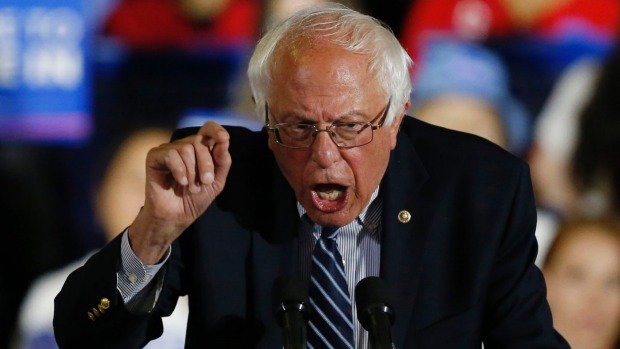 Courtesy of
Politico
:
There's no strategist pulling the strings, and no collection of burn-it-all-down aides egging him on. At the heart of the rage against Hillary Clinton and the Democratic Party, the campaign aides closest to him say, is Bernie Sanders.
It was the Vermont senator who personally rewrote his campaign manager's shorter statement after the chaos at the Nevada state party convention and blamed the political establishment for inciting the violence.
He was the one who made the choice to go after Democratic National Committee chair Debbie Wasserman Schultz after his wife read him a transcript of her blasting him on television.
He chose the knife fight over calling Clinton unqualified, which aides blame for pulling the bottom out of any hopes they had of winning in New York and their last real chance of turning a losing primary run around.
And when Jimmy Kimmel's producers asked Sanders' campaign for a question to ask Donald Trump, Sanders himself wrote the one challenging the Republican nominee to a debate.
There are many divisions within the Sanders campaign—between the dead-enders and the work-it-out crowds, between the younger aides who think he got off message while the consultants got rich and obsessed with Beltway-style superdelegate math, and between the more experienced staffers who think the kids got way too high on their sense of the difference between a movement and an actual campaign.
But more than any of them, Sanders is himself filled with resentment, on edge, feeling like he gets no respect -- all while holding on in his head to the enticing but remote chance that Clinton may be indicted before the convention.
These are the first seven paragraphs of an article that goes on to point out that Bernie Sanders takes every perceived slight by the media or Hillary Clinton campaign personally and that his guiding principle while under any kind of attack, imagined or otherwise, is "Screw me? No, screw you."
Essentially, much like Donald Trump, all of the campaign's missteps and self inflicted wounds were the result of decisions made by Bernie Sanders himself.
For me the question that remains after reading this article is how did he fool so many people, for so long, into believing that he had the temperament and self awareness to not only win this nomination, but to then actually BE the President of the United States?
And if there are any who refuse to accept the accuracy of this Politico piece Sanders' speech last night should be the only confirmation that they really need to prove it is dead on.
Courtesy of the
New York Times
:
And so, despite the crushing California results that rolled in for him on Tuesday night, despite the insurmountable delegate math and the growing pleas that he end his quest for the White House, Senator Bernie Sanders took to the stage in Santa Monica and basked, bragged and vowed to fight on.
In a speech of striking stubbornness, he ignored the history-making achievement of his Democratic rival, Hillary Clinton, who became the first woman in American history to clinch the presidential nomination of a major political party.
Mr. Sanders waited until 15 minutes into his speech to utter Mrs. Clinton's name. He referred, almost in passing, to a telephone conversation in which he had congratulated her on her victories. At that, the crowd of more than 3,000 inside an aging airport hangar booed loudly. Mr. Sanders did little to discourage them.
You know I get a lot of shit on here for my criticism of Bernie Sanders and his campaign, but I literally feel more vindicated every single day.
P.S. By the way it should be noted that Sanders irritable and perhaps misogynist attitude is now being reflected by some of his more aggressive followers as indicated by
their treatment of certain female reporters
:
I won't be answering calls from unknown numbers today, after third call from Bernie supporters telling me they'd hunt me down in the streets

— Amy Chozick (@amychozick) June 7, 2016
Like I said, vindicated.