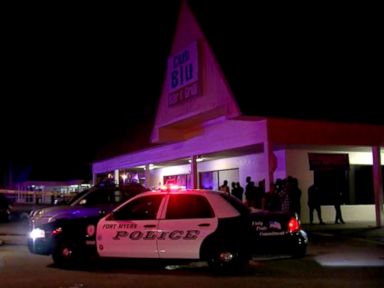 Courtesy of the
Orlando Sentinel
:
Police identified a 14-year-old boy and 18-year-old man as the two killed this morning in a shooting that left more than 14 others injured outside a Fort Myers nightclub.
Club Blu on Evans Avenue, a few miles south of the city's downtown area, was hosting a "Swimsuit Glow Party" for middle and high school students. The event had just wrapped up when the shooting started about 12:30 a.m.
Fort Myers police are questioning three people possibly connected to the incident. Their identities haven't been released.
Police identified the two killed as: Sean Archilles, 14, and Ste'fan Strawder, 18.
None of the other victims' names have been released.
Police said the shooting is not terrorism-related and detectives are working to determine a possible motive.
Terrorism, hate crime, revenge, crime of passion, it really doesn't matter the motive. The one thing that you can count on is that the presence of guns will dramatically increase the number of the dead and wounded, and that the NRA's solution will always be to lobby for more guns in the hands of the American people.
Nothing ever changes, and nothing ever will so long as we keep ignoring the real problem.
And no that problem is not terrorism, mental illness, or too few guns.