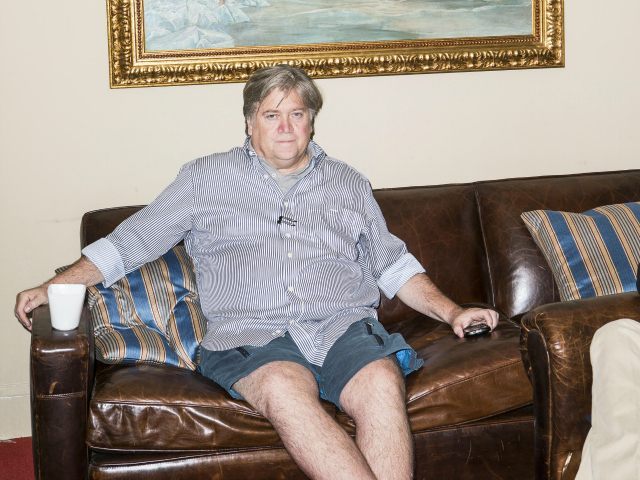 Stephen K. Bannon
Courtesy of the
New York Post
:
Donald Trump is shaking up his campaign again, bringing in Breitbart News' Stephen Bannon as campaign CEO and promoting pollster Kellyanne Conway to campaign manager.
The move comes just 82 days before the election as a slew of national and battleground state polls show Trump losing to Hillary Clinton.
Trump told The Associated Press in a phone interview early Wednesday that he has known both individuals for a long time. He says, "They're terrific people, they're winners, they're champs, and we need to win it," he said.
As
Politico
points out Bannon is an odd choice:
Donald Trump's new campaign CEO Stephen Bannon is "a little controversial," Ted Cruz's former campaign spokesman Rick Tyler said Wednesday.
"You probably hear from a lot of people who have worked with Bannon that he's not the easiest person to get along with. He has a very volatile temper," Tyler said on MSNBC's "Morning Joe."
Noting that Bannon, who is temporarily stepping away from his role with Breitbart News, has "never worked on a campaign," Tyler added, "we'll see if he's actually there to manage a campaign when he's never done one before. We'll see."
So an ill tempered asshole who has never worked on a campaign. Sounds like a perfect match for this candidate.
I'm just surprised that Bannon had time to work on a campaign along with his responsibilities to that
Phil Robertson movie
and everything.
But no need to panic because Trump also has the disgraced former head of Fox News
on his team
.
So let's see.
Trump's campaign now consists of a Right Wing propagandist, a serial sex abuser, and a possible
Russian sleeper agent
.
Sounds like a can't miss team to me.