Courtesy of
Yahoo
:
The internet is lighting up with conspiracy theories that a body double was used to stand in for Hillary Clinton as she emerged from her daughter' apartment Sunday after collapsing at a 9/11 memorial ceremony.
"Nose looks very different," one person wrote on Twitter.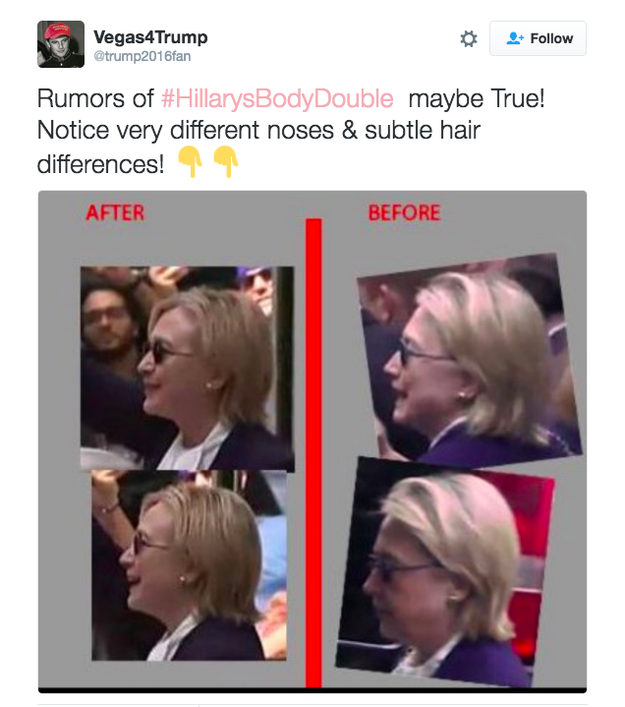 "Hillary's index finger is longer than her ring finger. This isn't Hillary," wrote another.
An additional person wrote: "The person outside Chelsea's apartment has skinny legs and torso! You decide!"
Another conspiracy theorist noted the absence of any obvious Secret Service agents nearby when the Democratic presidential candidate walked out of Chelsea's Manhattan apartment building.
You know the only part of this that I found at all convincing were the observations of weight loss, but then I remembered when I first noticed that Hillary seemed slimmer, and that was at the 9-11 memorial BEFORE her collapse.
So unless Hillary had a body double stage the whole "fainting from illness" thing this whole conspiracy seemed very unlikely.
Things got so out of control that the conspiracy folks thought they had even tracked down Hillary's body double, Theresa Barwell, who felt the need
to weigh in
:
OK people, calm down. I was in LA today, all day. Was just messin' with your crazy conspiracy minded little heads. Go to bed.

— Teresa Barnwell (@teresa_barnwell) September 12, 2016
Speaking of conspiracies,
the DNC had to squash rumors
that they were replacing Hillary at the top of the ticket due to her illness.
Hey since we are on the topic of conspiracy theories,
here's one for you
.
I must advice the Clinton campaign to perform toxicologic analysis of Ms. Clinton's blood. It is possible she is being poisoned.

— Bennet Omalu (@bennetomalu9168) September 12, 2016
I do not trust Mr. Putin and Mr. Trump. With those two all things are possible.

— Bennet Omalu (@bennetomalu9168) September 12, 2016
Now see, THAT'S believable.