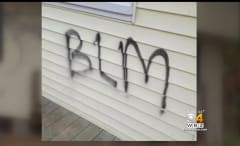 Courtesy of
CBS News
:
The wife of a Millbury, Massachusetts police officer is accused of faking a robbery and vandalizing the couple's own home, CBS Boston reports.
Police say on October 17 Maria Daly reported a burglary at the family home, saying jewelry and money had been stolen. She also reportedly said her house was tagged with graffiti that appeared to reference the Black Lives Matter movement.
According to Millbury Police Chief Donald Desorcy, investigators have determined the entire account was false.
The woman is only being charged with filing a false police report and misleading a police investigation.
Gee, good thing she is white or this might have been considered a hate crime.
You know I just don't understand why these Black Lives Matter folks are always acting so defensive.
I mean it's not like they are constantly being blamed for things they didn't do, while the police treat them like suspects for no good reason, right?
And you know the thing is that this shit has been happening for years, where African Americans are used as a scapegoat for all kinds of criminal activity, and nobody every publicized it to give the average American a peek into what it is like to be a black person living in this country.
So now we are seeing it all of the time, and for many non-minorities the information is almost too much to absorb.
I know, too fucking bad right?