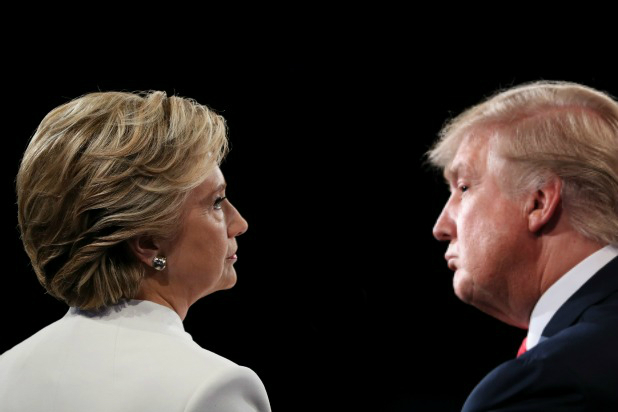 So I decided to open this up a little earlier than my previous open threads because some of the polls have already closed and a whole lot more of them will be closing pretty soon so we might actually have a fair idea as to how this is going early tonight.
Or...
This thing could go into the wee hours of the night and into the morning and we could all end up going to sleep with our heart rate through the roof and our fists full of our own hair.
Hopefully that last possibility will not be the case.
So far as of this post Trump has won Indiana with 11 electoral votes, and Kentucky with 8, giving him 19 so far tonight.
Hillary has won Vermont which has 3 electoral votes.
According to most pollsters this should be Hillary's night, and the
Princeton Election Consortium
is even more optimistic with a projection of 323 electoral votes for Clinton, and a 51 seat majority in the Senate, while a
Daily Kos
statistician predicts 347 electoral votes for Hillary Clinton tonight.
I want to believe.
I actually went out this morning and purchased enough wine to put myself into an alcoholic stupor if things start to go badly for our side. But unfortunately I have work tomorrow so my stupor has an expiration date.
I will post results as they come in and update the blog as new information becomes available.
As always my
Twitter account
can be found here though I make no promises that it will make a whole lot of sense as the night wears on.
Update: So West Virginia's 5 electoral votes have been added to Trump's total, giving him 24 so far tonight.
Update 2: South Carolina for Trump, 9 electoral votes. He now has 33 altogether.
Update 3: Trump adds Tennessee 11, Alabama 9, Oklahoma 7, and Mississippi 6, to his numbers for a total of 66 electoral votes so far.
However Hillary just added Illinois 20, New Jersey 14, Massachusetts 11, Maryland 10, Connecticut 7, Rhode Island 4, Delaware 3, and the District of Columbia 3, for a new total of 75 electoral votes.
Feel better?
Update 4: Currently MSNBC has the race 137 for Trump and 104 for Hillary.
While Google is showing 123 for Trump and 97 for Clinton.
Definitely a nail biter tonight.
Update 5: Everybody is feeling it.
— Elex Michaelson (@abc7elex) November 9, 2016
Certainly NOT the night I was anticipating.
Update 6: IF Trump were actually to win tonight, and I cannot believe I am saying that out loud, we will have allowed Wikileaks, Russia, and the FBI undermine our democracy.
And if I believed in Hell, I would expect there to be a seat saved for James Comey.
Update 7: The Dow just plunged 500 points.
If Trump were to win I bet it would crash altogether.
Update 8: Trump just picked up Montana's 3 electoral votes.
Now 104 for Clinton and 140 for Trump.
Update 9: New Mexico's 5 electoral votes just went to Hillary giving her 109.
Update 10: Missouri to Trump, giving him 150.
Update 11: Ohio goes to Trump. Now has 168.
Update 12: Virginia's 13 electoral votes just went to Clinton. This is a very important win for Hillary.
Now stands at Trump with 168 and Clinton with 122.
Update 13: Clinton now 131 to Trump's 168.
Update 14:
MSNBC
has Clinton with 209 and Trump with 187, and
HuffPo
has it with Clinton at 197 and Trump with 201.
No matter which one is correct the map is looking for difficult for Hillary at this point.
Update 15: Okay according to HuffPo Trump now has 216 to Hillary's 197.
MSNBC has not updated since that last one.
Others have Trump with even more.
Update 16: MSNBC just updated with Trump winning Florida and other smaller states.
Right now they have Hillary at 209 still and Trump with 228.
Update 17: Okay folks I am going to call it.
Trump is going to be our next President.
I keep looking at the numbers, and the states that are left, and I simply cannot honestly conceive of a way for Hillary to pull this out.
Which means that tomorrow we will wake up to a Republican in the White House, backed up by a Republican Senate and a Republican Congress.
I want more than I can possibly tell you to be wrong about this, but I just don't see how I could be.
Good bye Obamacare, good bye job growth, good bye our reputation around the world, and good bye progress.
I feel so badly for President Obama right now. This must be killing him.