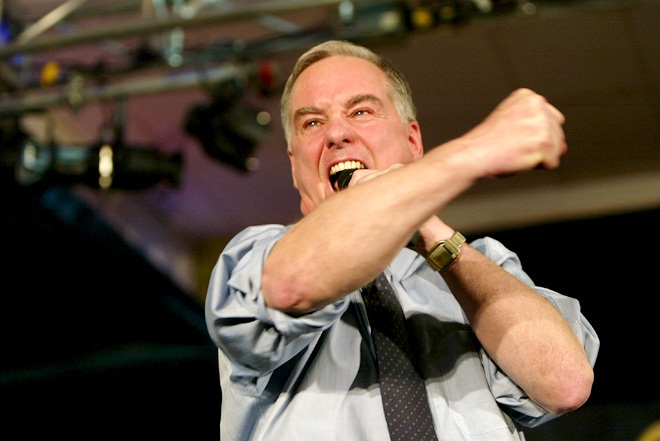 Howard Dean, back when just one yell could end you candidacy.
Courtesy of
Politico
:
Former Vermont Gov. Howard Dean said he is running for his old job atop the Democratic Party.
"The dems need organization and focus on the young," Dean tweeted Thursday. "Need a fifty State strategy and tech rehab. I am in for chairman again."
Dean served as Democratic National Committee chairman from 2005 to 2009. Donna Brazile is currently serving as interim chairwoman after Debbie Wasserman Schultz stepped down shortly before the Democratic National Convention in Philadelphia.
Bernie Sanders has endorsed Rep. Keith Ellison for the job, and while I have nothing against that choice I think Dean is a better way to go.
For one thing he had the job once before and by all accounts did a very good job.
He is also pragmatic and thinks carefully before making a move.
And when it comes to the Millennials he has a plan for bringing them to the table.
Which I think he can do since in many ways he WAS Bernie Sanders before Bernie Sanders.
During his 2004 presidential run Howard Dean was also packing venues with young people who were excited by his message, so in many ways he understands what they are thinking, even this newer group twelve years later.
That plus his experience makes him the best fit.
In my humble opinion.