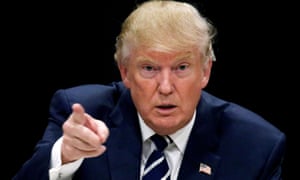 Courtesy of the
Wall Street Journal
:
President-elect Donald Trump, a harsh critic of U.S. intelligence agencies, is working with top advisers on a plan that would restructure and pare back the nation's top spy agency, people familiar with the planning said.
The move is prompted by his belief that the Office of the Director of National Intelligence has become bloated and politicized, these people said.
The planning comes as Mr. Trump has leveled a series of social-media attacks in recent months and the past few days against U.S. intelligence agencies, dismissing and mocking their assessment that Russia stole emails from Democratic groups and individuals and then provided them to WikiLeaks for publication in an effort to help Mr. Trump win the White House.
One of the people familiar with Mr. Trump's planning said advisers also are working on a plan to restructure the Central Intelligence Agency, cutting back on staffing at its Virginia headquarters and pushing more people out into field posts around the world. The CIA declined to comment.
"The view from the Trump team is the intelligence world has become completely politicized," said the individual, who is close to the Trump transition. "They all need to be slimmed down. The focus will be on restructuring the agencies and how they interact."
In other words Trump is upset that the intelligence agencies have determined that the Russian hacks were designed to help him win the election, and the wants to punish them for doing their jobs.
I actually see this is a not so veiled threat to remind the intelligence agency that he will soon be their boss and to take that into consideration before they reveal anything more about the hacks.
But riddle me this Batman.
How does a man who ran on increasing security for the United States, and fighting terrorists more aggressively, plan to do all of that once he has gutted the very agencies that he relies on to provide him the information to accomplish those tasks?
P.S. To be fair Trump spokesperson, and probable part time porn actor, Sean Spicer says that there is "
no truth to this idea.
"
However how many times have we seen that a Trump spokesmodel has had no freaking idea what Donald Trump was actually up to?
Update: It looks like Trump is trying to Twitter-back his previous tweets:
The dishonest media likes saying that I am in Agreement with Julian Assange - wrong. I simply state what he states, it is for the people....

— Donald J. Trump (@realDonaldTrump) January 5, 2017
to make up their own minds as to the truth. The media lies to make it look like I am against "Intelligence" when in fact I am a big fan!

— Donald J. Trump (@realDonaldTrump) January 5, 2017
Oh, I see. Trump was not really putting faith in Julian Assange over our intelligence agencies, that was just a misrepresentation by the media.
What was it he tweeted again?
The "Intelligence" briefing on so-called "Russian hacking" was delayed until Friday, perhaps more time needed to build a case. Very strange!

— Donald J. Trump (@realDonaldTrump) January 4, 2017
Julian Assange said "a 14 year old could have hacked Podesta" - why was DNC so careless? Also said Russians did not give him the info!

— Donald J. Trump (@realDonaldTrump) January 4, 2017
— Donald J. Trump (@realDonaldTrump) January 4, 2017
Oh yeah, the "misunderstanding" was TOTALLY the fault of the press.
How dare they read his tweets and interpret them logically.