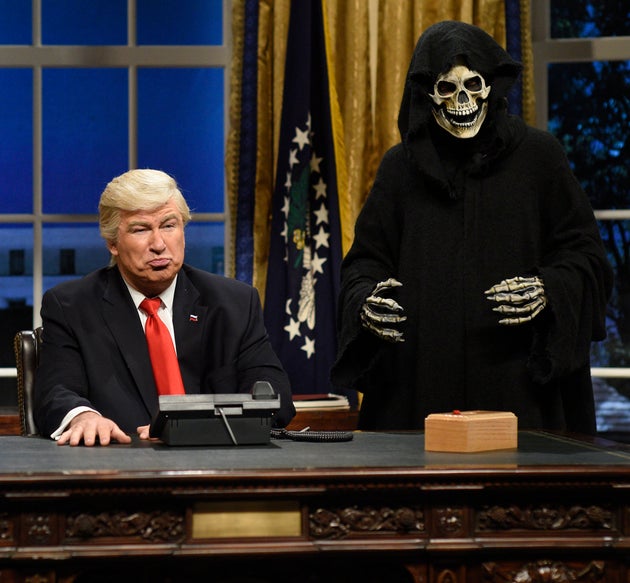 Courtesy of
WaPo
:
Staffers buzz privately about who is up and who is down, with many eagerly gossiping about which poor colleague gets an unflattering portrayal on NBC's "Saturday Night Live." For the past two weeks, it has been White House press secretary Sean Spicer. But aides said Trump was especially upset by a sketch that cast White House chief strategist Stephen K. Bannon as the Grim Reaper manipulating the president — who was ultimately relegated to a miniature desk, playing dolefully with an expandable toy.
Well good for SNL. They are doing an amazing job of rattling Trump's cage.
However in Bannon's case they may actually be underselling the evil.
Take a look at this profile from
Vox
:
Bannon, it should be noted, fits the stereotype of the sinister political adviser to a T —and even seems to revel in it. "Darkness is good," he told Wolff. "Dick Cheney. Darth Vader. Satan. That's power." Note that Bannon said this after the election and his appointment to a top White House job. (These comments are why Saturday Night Live portrayed him as the Grim Reaper in its recent skit.)
But as chief strategist, Bannon is more than just a political adviser. He's taken on a major role in policy and is, by most accounts, the leading force in crafting the Trump administration's agenda — especially the series of White House–issued executive orders with which Trump began his presidency. "Mr. Bannon has rushed into the vacuum, telling allies that he and Mr. Miller have a brief window in which to push through their vision of Mr. Trump's economic nationalism," the New York Times's Glenn Thrush and Maggie Haberman report.
Yeah like I said, that Grim Reaper parody may be a little too deferential.
The guy is in fact far more terrifying than simple death. He embodies the kind of chaos and nationalism that destroys nations.