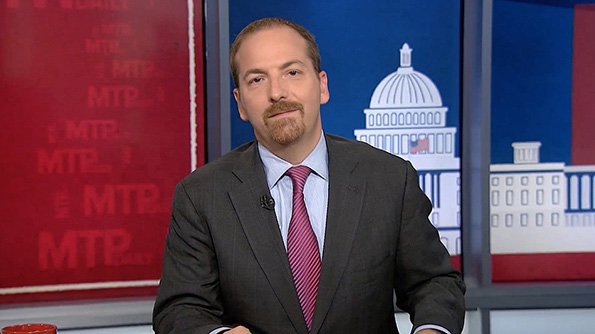 Courtesy of
Real Clear Politics
:
Friday on MSNBC, Chuck Todd said unless and until President Trump accepts "the fact that Russia interfered in this election," it will "plague him."
CHUCK TODD: You have a presidency right now that I think is, it's beyond saying it's in crisis mode, it's, you know, it's on the brink, the question is on the brink of what? Is it on the brink of collapse? Is it on the brink of being a temporary lame duck presidency? Maybe it feels lame-duckish temporarily right now.
You've got a stalled agenda. Republicans who have no fear of this president right now. They don't think there's a political penalty to buck him.
As you might imagine this did not sit well with a certain stubby fingered vulgarian.
When will Sleepy Eyes Chuck Todd and

@NBCNews

start talking about the Obama SURVEILLANCE SCANDAL and stop with the Fake Trump/Russia story?

— Donald J. Trump (@realDonaldTrump) April 1, 2017
It is the same Fake News Media that said there is "no path to victory for Trump" that is now pushing the phony Russia story. A total scam!

— Donald J. Trump (@realDonaldTrump) April 1, 2017
Yeah according to
CBS News
that "total scam" has narrowed its focus a little:
CBS News has learned that U.S. investigators are looking into whether Trump campaign representatives had a role in helping Russian intelligence as it carried out cyberattacks on the Democratic National Committee and other political targets in March 2016.
This new information suggests that the FBI is going back further than originally reported to determine the extent of possible coordination. Sources say investigators are probing whether an individual or individuals connected to the campaign intentionally or unwittingly helped the Russians breach Democratic Party targets.
It would appear that everybody has a job to do.
The investigators are going to keep investigating, the journalists are going to keep reporting on those investigations, and Donald Trump is going to keep firing off desperate tweets to distract from those stories.