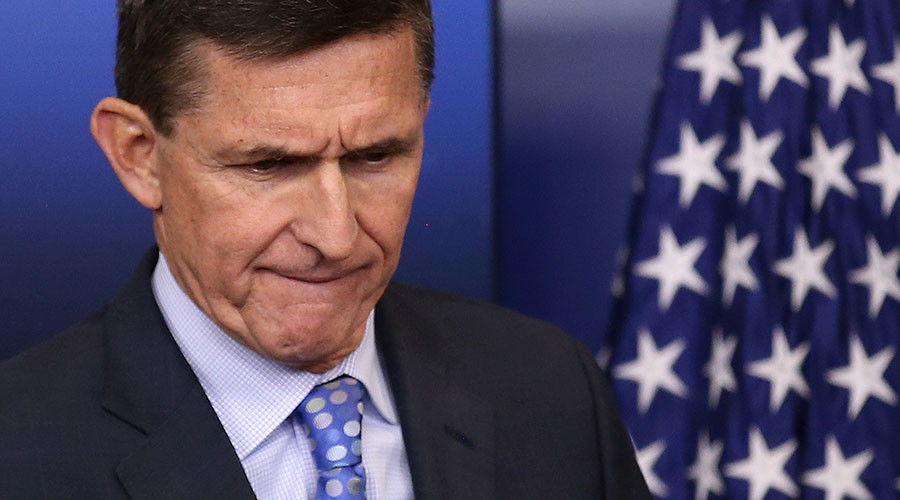 Courtesy of the
AP
:
President Donald Trump's former national security adviser, Michael Flynn, invoked his constitutional right against self-incrimination on Monday and declined to hand over documents sought under subpoena by a Senate panel investigating Russia's meddling in the 2016 election.
In a letter to the Senate intelligence committee , Flynn's attorneys justified the decision by citing an "escalating public frenzy against him" and saying the Justice Department's recent appointment of a special counsel has created a legally dangerous environment for him to cooperate with the panel's investigation.
"The context in which the committee has called for General Flynn's testimonial production of documents makes clear that he has more than a reasonable apprehension that any testimony he provides could be used against him," the attorneys wrote in the letter, which was obtained by the AP.
Flynn's decision not to cooperate with the Senate committee represents a new legal complication for the expanding government and congressional inquiries into Russian interference in the presidential campaign and contacts between Trump advisers and Russian officials and representatives. Flynn is a key figure in both the FBI investigation headed by special counsel Robert Mueller and in separate Senate and House inquiries.
Don't forget that earlier Flynn's request for immunity in exchange for his testimony was rejected, which I think I pretty compelling evidence that Flynn knows he is in serious trouble here and is worried about prison time.
And well he should be. Take a look at
this
:
Rep. Elijah Cummings, the top Democrat on the House Oversight Committee, said Monday his panel has obtained documents "that appear to indicate" that Michael Flynn "lied to the investigators who interviewed him in 2016 as part of his security clearance renewal."
Flynn told security clearance investigators he was paid by "U.S. companies" for his 2015 trip to Moscow for an event celebrating the Russian propaganda outlet RT, where he sat at a table with Russian President Vladimir Putin.
Flynn was paid $45,000 by RT for a speech he gave at the event. The money was routed through Flynn's speakers' bureau, Leading Authorities. But Cummings notes that RT paid "directly" for airfare, lodging and other expenses for Flynn and his son.
It is a crime to falsify or conceal information on a security clearance application.
Just for fun let's look back at video of Flynn chanting "Lock her up" along with the audience at the RNC, and calling for her to drop out of the race because he claimed she was a security risk.
And during this time he was working for the Russians to influence the election, and to influence Donald Trump.