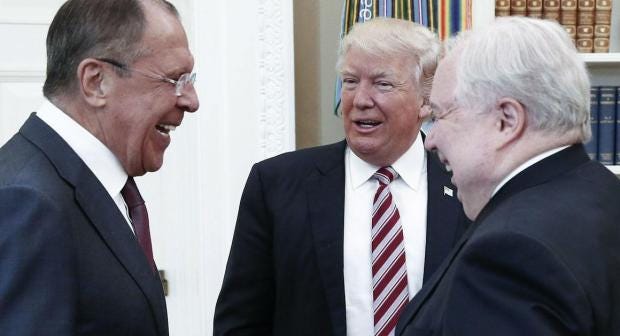 Courtesy of
CNN
:
Russian government officials discussed having potentially "derogatory" information about then-presidential candidate Donald Trump and some of his top aides in conversations intercepted by US intelligence during the 2016 election, according to two former intelligence officials and a congressional source.
One source described the information as financial in nature and said the discussion centered on whether the Russians had leverage over Trump's inner circle. The source said the intercepted communications suggested to US intelligence that Russians believed "they had the ability to influence the administration through the derogatory information.
"But the sources, privy to the descriptions of the communications written by US intelligence, cautioned the Russian claims to one another "could have been exaggerated or even made up" as part of a disinformation campaign that the Russians did during the election. The details of the communication shed new light on information US intelligence received about Russian claims of influence.
The contents of the conversations made clear to US officials that Russia was considering ways to influence the election -- even if their claims turned out to be false.
None of the sources would say which specific Trump aides were discussed. One of the officials said the intelligence report masked the American names but it was clear the conversations revolved around the Trump campaign team. Another source would not give more specifics, citing the classified nature of the information.
The sources are careful to suggest that the Russians could have been exaggerating this evidence, but considering what we have learned so far, and now seen Trump do since entering the White House, do we really think they had to exaggerate it that much?
At this point the only thing that could further indicate that Trump is Putin's little bitch is if he had that tattooed on his lower back.
And let's face it, for all we know he does.
By the way this is just more information that supports the findings in that
Russian dossier
which the Trump folks keep insisting is filled with false information.
Which is, as you might have guessed, exactly how they responded to THIS report from CNN: A White House spokesman told CNN:
"This is yet another round of false and unverified claims made by anonymous sources to smear the President. The reality is, a review of the President's income from the last ten years showed he had virtually no financial ties at all. There appears to be no limit to which the President's political opponents will go to perpetuate this false narrative, including illegally leaking classified material. All this does is play into the hands of our adversaries and put our country at risk."
If this is all a "false narrative" then why is Trump now lawyering up?