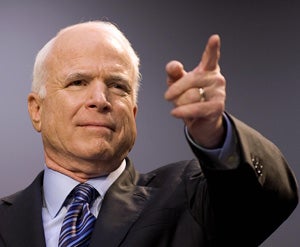 I'll bet you thought I would do the right thing. Sucker!
Courtesy of
CNN
:
Senate Republicans voted to advance to floor debate on their efforts to repeal and replace Obamacare.
Vice President Mike Pence cast the tiebreaking vote.
In a dramatic moment, Sen. John McCain returned from Arizona to applause from fellow senators. He cast a necessary Republican vote for the motion after two GOP senators -- Susan Collins and Lisa Murkowski -- sided with all Democrats in opposition.
As the vote began, protesters in the Senate gallery shouted "kill the bill" and "shame, shame, shame!"
The vote came as Senate Majority Leader Mitch McConnell and President Donald Trump dared their fellow Republicans to block their seven-year campaign promise to repeal and replace Obamacare.
You might have hoped that having this fresh new cancer diagnosis would have helped John McCain find his humanity, but apparently any ethics or morals he may once have possessed are now gone forever.
John McCain has essentially been dead to me since he plucked that lunatic from the wilds of Wasilla, Alaska and inflicted her on the American people.
There is simply no coming back from a fuck up that bad.
I will say I felt a little tinge of pride that my Senator Lisa Murkowski refused to help push this death sentence for millions of Americans forward. She has let me down time and time again, but at least this time, for whatever reason, she did the right thing.
It should be noted that this is not yet a done deal, it is only a vote to advance this to a floor debate so there is still plenty of time for opponents to make their case and for the American people to flood the phone lines of these Republican assholes and make them feel our rage over a bill
that will cost 22 million more Americans
there health care coverage.
If I were a betting man I would bet that this thing will die, but in a world where up is down, black is white, and facts no longer matter, it is hard to have confidence in much of anything.