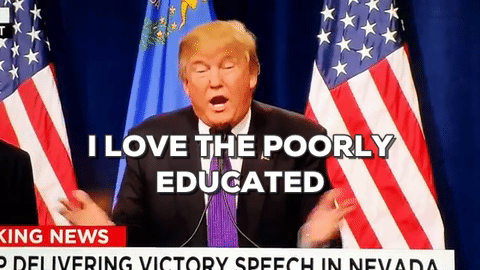 Courtesy of the
Daily Beast
:
Fifty-eight percent of Republicans and Republican-leaning independents say colleges and universities have a negative effect on the country, according to a new Pew Research Center study. This marks a 45 percent increase from last year's study. Comparatively, 72 percent of Democrats and Democrat-leaning independents say higher education has a positive impact on the country. Fifty-five percent of the general population was also found to think positively of higher education.
I have said it before, and I will say it again, Republicans want the American people to be as dumb as possible.
They have been attacking public education and the intellectually elite for decades now because they know full well that smart people do not fall for their bullshit.
When Donald Trump said "I love the poorly educated" he was not just blowing smoke.
Without them he would NEVER have been elected.