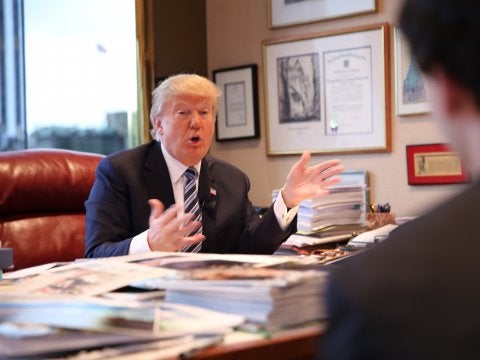 Courtesy of
CBS News
:
CBS News has obtained a new confidentiality agreement rolled out after the election. The Trump Organization is requiring employees at all levels to sign it, or else they will lose their jobs.
Employees must agree to keep secret any information they learn about anyone in the "Trump family" and extended family, including their "present, former and future spouses, children, parents, in-laws."
"I have reviewed confidentiality agreements in international, family-run hospitality organizations and... I have never seen a loyalty code to a family like this," said Debra Soltis, who has specialized in employment law for more than 25 years.
"This confidentiality agreement looks more like what you would expect to sign if you were a nanny to Angelina Jolie and Brad Pitt's children, where you were being brought into the home and exposed to private information," she said.
Specifically off limits: "all political, legal, social, religious, health-related affairs, activities, views and/or opinions of any member of the Trump family... all photographs, movies, sketches, videos, sound or image recordings or likenesses of any member of the Trump family."
The agreement lasts forever and is retroactive.
Not surprised by this at all, this family is terrified of having their private information leak out, because they know that some of their secrets could land them in prison.
I imagine that there is a similar agreement which members of Trump's cabinet and White House staff are also required to sign.
Really makes you wonder just how much dirt is out there, doesn't it?