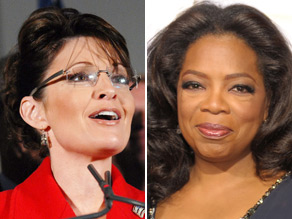 Apparently Palin left Oprah's studio with good feelings and warm memories. In short Oprah did NOT ask Sarah any really tough questions.
So for everybody who had hoped that Oprah was too independent and strong minded to conduct a soft ball interview with Palin, sorry to disappoint you.
Winfrey seems to have interviewed her in the same manner she would use to interview Jennifer Aniston, instead of the manner in which she would interview Joseph McCarthy, which would be the much more APPROPRIATE approach.
Here is Sarah's Facebook post about her "interview".
Willow, Piper, and I are in Chicago and just wanted to let you know that I had a great conversation with Oprah today. We taped the show for Monday, November 16th, and enjoyed it so much that we went way over on time. The rest will air on Oprah.com. Oprah was very hospitable and gracious, and her audience was full of warm, energized and (no doubt) curious viewers.
- Sarah Palin
Oprah, Oprah, Oprah. You HAD her. She was right there in YOUR studio. In front of YOUR audience. Under YOUR control. You could have crushed her like a bug!
But no. You just let her slip right through your perfectly manicured fingers. Where is your patriotism?
Did you not receive all of the information and questions from the thousands of people who wanted you to finally confront her on the questions that she has thus far refused to answer? Did you not hear the passion in their voices? Did you not recognize their concern?
I believe the plan is for the bloggers to head over to Shannyn's on Monday and watch this travesty together. I imagine there will be a number of catcalls and adult beverages to dull our disappointment. We might be live blogging it but I will let you know.
Oprah, Oprah, Oprah.