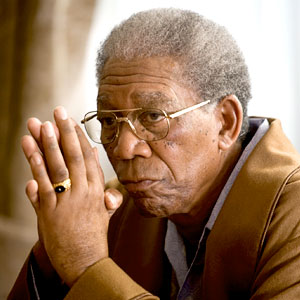 Courtesy of
Politico
:
Actor Morgan Freeman is crossing his fingers that President Obama wins another term.
"I think that we did a really good thing when we elected Barack Obama," Freeman said on "Tavis Smiley" on Tuesday. "…He is absolutely and totally qualified for the job. He has proven himself to be not only qualified for the job, but very good at it. The things that he's managed to get accomplished in the face of so much pushback is amazing."
"The Shawshank Redemption" star added, "And I think — this is Morgan Freeman's personal thought — we're going to be in a lot of trouble if we don't re-elect him because people on the other side of the fence scare me."
Yes that is the point that I try to make time, and time, again.
No President Obama is NOT perfect.
Yes there are a number of things that I disagree with him about.
But the people who are now in charge of the Republican party are OUT OF THEIR FUCKING MINDS!!!
So how is there even a choice anymore?
And don't give me that third party candidate shit, because any vote that is NOT for Obama is a vote FOR insanity, whether you want it to be or not.