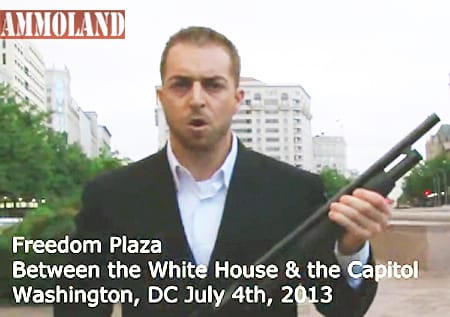 Courtesy of the
Washington Post:
Police searched the Northern Virginia home of activist Adam Kokesh Tuesday evening and took him into custody on a charge of being in possession of hallucinogenic mushrooms while also having a gun, authorities said.
Kokesh, a former Marine, was held overnight at the Fairfax County Adult Detention Center, charged with possession of schedule I or II drugs while in possession of a firearm, said Lt. Steve Elbert, a spokesman for the Fairfax County Sheriff's Office.
Kokesh refused to be fingerprinted or arraigned, or to speak with court officials on Wednesday morning, said Nancy Lake, Clerk of the Fairfax County General District Court.
"We were expecting this. We were expecting the government to raid our house," Darrell Young, Kokesh's roommate, told WRC-TV (Channel 4).
U.S. Park Police Lt. Pamela Smith said her agency executed a search warrant at Kokesh's home in Herndon about 7:45 p.m. Tuesday, looking for a weapon. The park police are the federal agency responsible for policing Freedom Plaza, the concrete park a few blocks from the White House where — in a video posted to YouTube on July 4 — Kokesh appears to load a shotgun in violation of D.C. gun laws.
Smith said she did not know if the YouTube video was the reason for the search warrant. Carrying a loaded weapon, concealed or unconcealed, is against the law in the District. The possession of a firearm not registered in the District carries a penalty up to a year in prison.
Such a moron.
"We were expecting this." What? You were expecting to be arrested for breaking the law? Damn you're just like a modern day Nostradamus!
This Kokesh guy
essentially makes terrorist threats
while standing in the middle of Washington D.C., just so he can complain later on that we are living in a police state when they come to arrest him.
I swear gun toting drama queens are the worst!
Oh well at least now he gets the opportunities to make friends in prison with OTHER folks who hate the government, and are convinced their rights are being taken away from them.