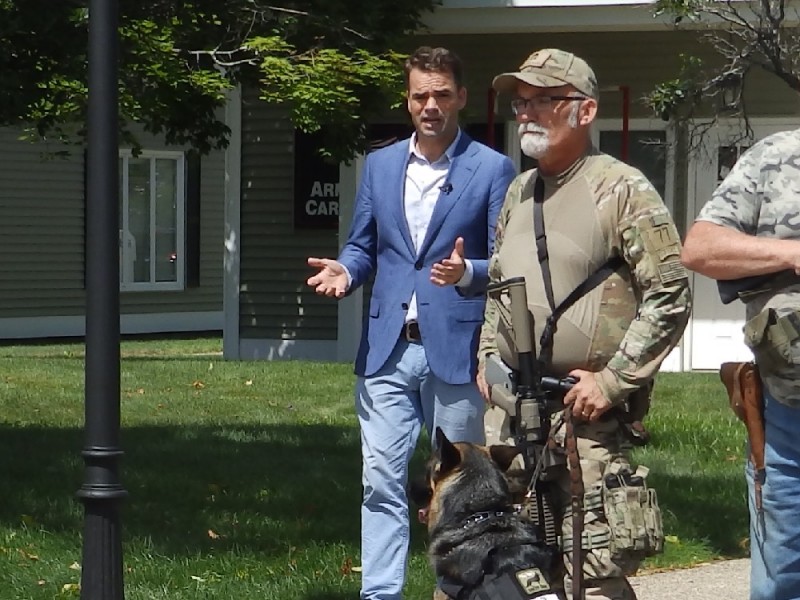 Courtesy of
OPB
:
Federal authorities on Thursday arrested a New Hampshire man for his role in a standoff by Nevada ranchers opposed to federal control of public lands.
Gerald DeLemus, of Rochester, was named in an indictment in Nevada as a "mid-level leader" and organizer of a conspiracy to recruit, organize, train and provide support to armed men and other followers of rancher Cliven Bundy.
DeLemus, a U.S. Marine Corps veteran and tea party activist, last year signed on as a member of presidential candidate Donald Trump's New Hampshire veterans coalition. A July news release posted on Trump's website listed DeLemus as a co-chair.
What? You mean people associated with the Donald Trump campaign are in trouble with the law?
Who could have predicted such a thing?
DeLemus was not the only person caught in the FBI's net. They also indicted and arrested
thirteen others
:
A superseding criminal indictment was returned by the grand jury on Wednesday, March 2, and now charges a total of 19 defendants. The 14 new defendants are Melvin D. Bundy, 41, of Round Mountain, Nev., David H. Bundy, 39, of Delta, Utah, Brian D. Cavalier, 44, of Bunkerville, Nev., Blaine Cooper, 36, of Humboldt, Ariz., Gerald A. DeLemus, 61, of Rochester, N.H., Eric J. Parker, 32, of Hailey, Idaho, O. Scott Drexler, 44, of Challis, Idaho, Richard R. Lovelien, 52, of Westville, Okla., Steven A. Stewart, 36, of Hailey, Idaho, Todd C. Engel, 48, of Boundary County, Idaho, Gregory P. Burleson, 52, of Phoenix, Ariz., Joseph D. O'Shaughnessy, 43, of Cottonwood, Ariz., and Micah L. McGuire, 31, and Jason D. Woods, 30, both of Chandler, Ariz.
Twelve defendants were arrested earlier today. Two defendants, Brian D. Cavalier and Blaine Cooper, were already in federal custody in the District of Oregon.
"These indictments and subsequent arrests send an irrefutable message to the American people that our determination remains steadfast to protect them and pursue individuals who participate in violent acts of this nature," said Special Agent in Charge Bucheit.
Wow, look at all the Bundy's. I wonder if there are any Bundy family members NOT in jail?
Gee what kind of country are we becoming when a man cannot gather a small army of heavily armed idiots to engage the federal government in a standoff?
You know besides a country of laws of course?