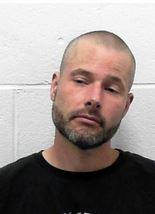 Thomas David Deegan
Courtesy of
Metro News
:
A Wood County jury quickly convicted the man Friday who had threatened last fall to seize control of the state capitol and the state government of West Virginia.
The prosecution's case centered on a conference call recorded last September where Deegan talked about his plan.
"The conversation was the actual crime itself," Wood County Prosecutor Jason Wharton told MetroNews Friday morning. "The jury was able to hear the entirety of the conference call as well as some recordings from the regional jail and some other testimony."
"He made statements with regard to a plan to essentially bring many individuals to the state capitol in Charleston in an attempt to overtake the offices in that complex," Wharton said.
Deegan told those on the conference call they should shoot those who offered any resistance.
Oh he seems nice.
Here's more from the
Southern Poverty Law Center
:
Deegan is accused of laying out his overthrow plans in a series of conference calls -- one of them as recently as Sept. 14 -- where he called on like-minded armed extremists to grab their firearms and assist him in an attempt to overthrow state government, according to court documents.
His intended plan was to remove several state government leaders from their offices, charge them with treason and replace them with sovereign citizens. After apparently setting up a sovereign citizen-style court system, those found guilty of treason would be put to death.
Gee who could have guessed that this might be the result of constant anti-government rhetoric pouring out of right wing radio and conservative news outlets 24 hours a day?