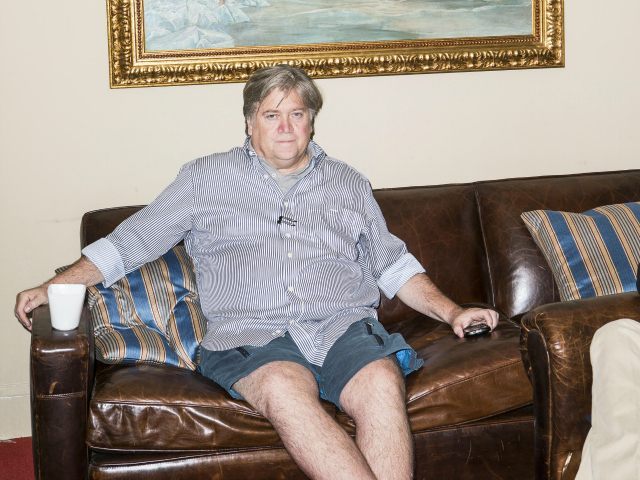 Courtesy of
The Daily Beast
:
Donald Trump's new campaign boss—the guy white supremacists are so excited about—once described D.C.'s top Republicans as "cunts."
Stephen Bannon, the Trump campaign's new chief executive as of Wednesday, used the phrase two years ago in emails with Breitbart reporter Matt Boyle. Bannon ran Breitbart at the time, and the two schemed about how to get activists to "turn on the hate" as part of a plan to "burn this bitch down." The emails, obtained by The Daily Beast, are just another reminder that the Trump campaign's new management is unlikely to play nice with party leaders.
The exchange was on December 16, 2014. In it, Bannon flagged a Roll Call story about a private meeting Rep. Jason Chaffetz held for about a dozen Capitol Hill reporters. Chaffetz was about to become chairman of the powerful Oversight and Government Reform Committee, and the meeting previewed his plans for the committee.
In response to learning that Bannon wrote this:
"Leadership are all cunts," he wrote. "We should just go buck wild."
Then he wrote, "Let the grassroots turn on the hate because that's the ONLY thing that will make them do their duty."
Let's see, a disdain for Republican leadership, deeply misogynist language, and a desire to ratchet up the hatred within the GOP base, yep that sounds like just the perfect guy to run Donald Trump's campaign.
It is also telling that this is the guy who directed and released Sarah Palin's revisionist history in movie form
back in 2011
.
That movie bombed so hard it destroyed any possibility of Sarah Palin ever returning to politics. (You know that and every speech and interview she's ever giving.)
So one has to wonder exactly how effective his messaging is going to be for the Trump campaign.
My guess, not very.