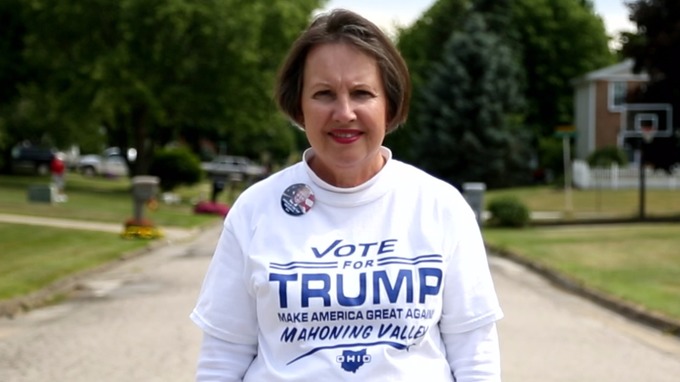 Courtesy of
The Guardian
:
Donald Trump's campaign chair in a prominent Ohio county has claimed there was "no racism" during the 1960s and said black people who have not succeeded over the past half-century only have themselves to blame.
Kathy Miller, who is white and chair of the Republican nominee's campaign in Mahoning County, made the remarks during a taped interview with the Guardian's Anywhere but Washington series of election videos.
"If you're black and you haven't been successful in the last 50 years, it's your own fault. You've had every opportunity, it was given to you," she said.
"You've had the same schools everybody else went to. You had benefits to go to college that white kids didn't have. You had all the advantages and didn't take advantage of it. It's not our fault, certainly."
Miller also called the Black Lives Matter movement "a stupid waste of time" and said lower voter turnout among African Americans could be related to "the way they're raised".
Well it's a good thing the Trump campaign is not attracting racists anymore.
Believe it or not that was actually too much even for the Trump campaign and
Miller was forced to resign
:
"My personal comments were inappropriate, and I apologize," Mahoning County chair Kathy Miller said in a statement. "I am not a spokesperson for the campaign and was not speaking on its behalf. I have resigned as the volunteer campaign chair in Mahoning County and as an elector to the Electoral College to avoid any unnecessary distractions."
Before making this statment Miller was actually doubling down on her remarks and ch alleging journalists to give her examples of racism in the last thirty years.
In other news Trump had t
alked about introducing a nationwide stop and frisk policy
, in order to combat crime, even though a federal judge found it to be unconstitutional.
Yep, I just have no idea how Trump keeps attracting these racists to his campaign.