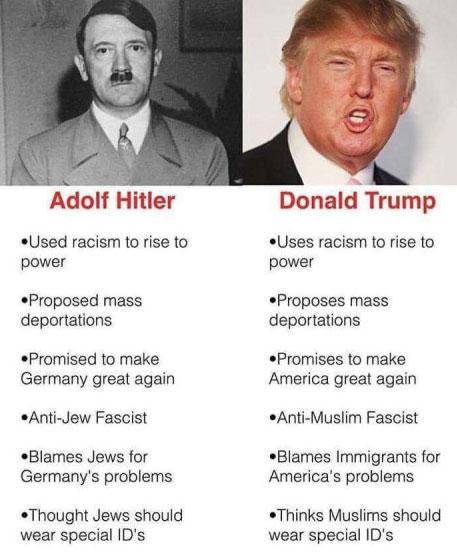 Courtesy of the
Monterey Herald
:
A history teacher at Mountain View High School has been placed on paid leave after drawing parallels between Republican President-elect Donald Trump and Adolf Hitler in his lesson plan.
Frank Navarro, who's taught at the school for 40 years, was asked to leave midday Thursday after a parent sent an email to the school expressing concerns about statements Navarro made in class. Mountain View/Los Altos High School District Superintendent Jeff Harding confirmed the incident Friday but declined to describe the parent's complaints.
Navarro, an expert on the Holocaust, said school officials declined to read him the email and also declined his request to review the lesson plan with him.
"This feels like we're trying to squash free speech," he said. "Everything I talk about is factually based. They can go and check it out. "It's not propaganda or bias if it's based on hard facts."
According to the superintendent Mr. Navarro will be back in the classroom as early as tomorrow and I certainly he picks up his lesson right where he left off.
Personally I don't know what the issue was?
After all if you elect a fascist you should be prepared for educators and the media to point out that they are indeed a fascist.