Here is a portion of O'Malley's revisionist history courtesy of
The Guardian
:
There was a time when Sarah Palin was normal by Alaska standards. Way back before the hoopla, and way before she endorsed Donald Trump, she made sense as a politician here. That's not the case any more.
I'm told she lives in Alaska most of the time, but she's invisible in public life. But back in the day, I liked her – and so did many in my community. I'm not conservative, but she grew on me when I worked as a reporter in Anchorage in the mid-2000s, and the reason had nothing to do with politics. She was a kind of regular person I recognized as of this place. Tough, funny, pragmatic. She loved Alaska like I did. If you didn't know her then, it's hard to explain or believe.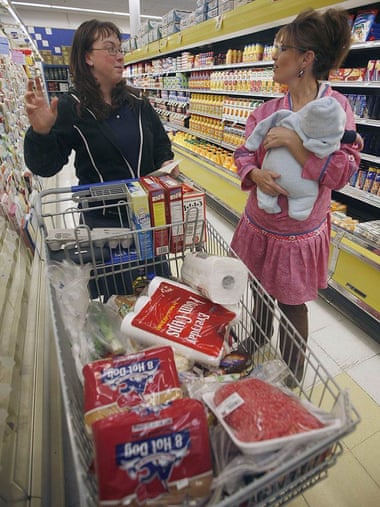 O'Malley then offers this picture, which shows Palin just hobnobbing with the locals and which she believes was NOT a photo-op, that there tells you that she does not understand Sarah Palin.
Above all, Palin was nice. If a reporter called her office, she called back on their cell phone: "Hi, this is Sarah." Like most people here, she was religious, but didn't talk about it publicly. Like most people, her family hunted and owned guns, but she didn't talk too much about that either. She was fuzzy on policy details, but only insiders noticed. She made a big deal about government corruption.
"She wanted to be liked and, as a result, was likable," said a reporter friend of mine who covered her as governor. "Her only real enemies were white-guy boys club oil politicians who were getting indicted by the feds."
Okay well there is some truth to this. Palin absolutely was focused on her polls numbers and receiving positive coverage from media outlets.
So yes she returned calls fairly quickly, IF you were somebody that she perceived to be "on the team."
In fact at one time Dennis Zaki was one of those people, and broke into the news biz to some degree based on his access to Sarah Palin and the number of great photos he took of her and other politicians in Alaska.
However I was there when he lobbed the first criticism her way, and let me tell you the arctic winter has NOTHING on Sarah Palin when it comes to freezing people out.
O'Malley then documents when SHE thinks everything changed for Palin:
I rode along in the motorcade the day she came back to the state to vote. We whizzed out to Wasilla, and she emerged from her black SUV wearing a Carhartt jacket. The outfit was self-conscious. Alaska schtick. Not her thing. But she'd already recalibrated for an audience that wasn't us. Then John McCain lost. She peaced-out on being governor.
For many here, that was the end.
It's hard to keep track of what happened next. The internet Sarah-ploded. There was Fox News, reality television, the book, the steady stream of social-media snits, the house in Arizona, a family run-in with the cops and Bristol's baby-mama drama.
You see the problem with this is that O'Malley seems to be basing most of her Palin-ology on her personal experiences with the then Governor who was seeking positive coverage.
It does not seem that O'Malley has done any real research into Palin's past nor that she has read any of the great books written about her including those written by
Geoffrey Dunn
,
Joe McGinniss
, or even
Frank Bailey
.
Instead she bases it on her memories, which I find somewhat unreliable as O'Malley was also the reporter
who swore up and down
that she KNEW that Sarah Palin was indeed pregnant with Trig, and that there was no conspiracy:
But, of course, there was no silence spiral. The journalists, including me, who covered Palin at the time believed she was pregnant because she was pregnant. Even before the announcement, she seemed to be putting on weight. She wore baggy jackets and scarves. Before the announcement, she acted nervous when photographers tried to take her picture. Later on, her face filled out. Her fingers swelled. She had a noticeable belly. And it wasn't made out of foam.
Palin also ran all the time at the gym in Juneau. People I know saw her on the treadmill sweating in workout clothes. She had a belly. I repeat: she had a real pregnant belly. Are you going to tell me she was wearing a prosthetic abdomen on the treadmill?
For the record Palin has ALWAYS been a conniving opportunist who manipulated the weak willed around her and savaged her critics at every turn.
She used her feminine wiles to seduce male reporters and her girl power BS to win over the female journalists. And that seemed to work well here in Alaska, where let's face it journalism is not exactly breaking new ground.
However all of that came to a halt when a certain Katie Couric asked the innocuous question "What do you read?"
THAT was the beginning of the end, and THAT was when everybody started to see the true Sarah Palin.
Somebody it seems that Julia O'Malley never got the chance to meet.